Despite being in such difficult times I have even more good news to share with you all.

To round off an exceptional week Baldy's Blog has won another prestigious award.

I have been named as the Press Gazette's multi-media journalist of the year, at their regional press awards.
Click above to watch a video of my parents collecting the award. Actually brought a little tear to my eye.

In our industry this is a huge accolade and it's one I'm absolutely delighted to receive.

But this post is for my amazing sister Carrie.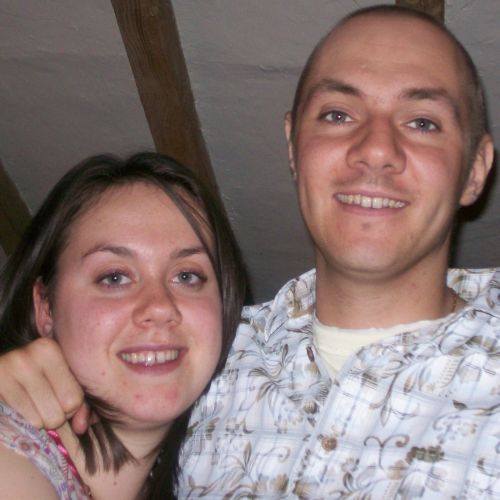 The awards are judged by 50 senior figures from the world of UK journalism and they are not given out lightly.

This latest one takes Baldy's Blog's tally to four. Coming back to the blaze of glory reference, there are not many more awards a journalist like me can win.

God I wish I'd never got ill but the recognition for this little project has been unbelievable.

It's already scooped a Yorkshire Press Award, an award from the National Guild of Heath Writers and the international Weblog Award - in Las Vegas!

The do was held at lunch time today at the Lancaster Hotel in London.

I knew I had been shortlisted but after Wednesday every day is just getting more and more difficult.

My chest feels like it is burning. It's really tight, dry and rattling.

As you can hear on my interviews my voice is struggling too and conserving energy is increasingly difficult.

My editor had already invited my parents to attend the ceremony so I asked them if they would go and represent me.

I had something else to take care of.

Last week it was Carrie's 24th birthday.

It was a brilliant day and her boyfriend Ian proposed to her.

She accepted and it was lovely seeing her with such a smile on her face.

All my family are devastated at what is happening but I feel really sorry for Carrie. It's so unfair that she is losing her brother.

We have always been close and the only time I get angry about my disease is when I think I won't be there for her wedding or be an uncle to her children.

I have seen with my own eyes that families move on but they never quite 'get over' such a painful and unnecessary loss.

Me and Carrie had arranged to go birthday shopping and go out for lunch.

It was great being able to treat her to some killer shoes, perfume and a slap up meal.

But more importantly it was just great spending quality time with her.

A disease and prognosis like mine eats into families much like the cancer itself. It's devastating and destructive in equal measures.

Despite knowing how proud they are of me for everything I have done and for dealing with this situation as best I can, it doesn't make their inevitable loss any easier to bear.

I love my sister and thinking about her getting so upset is heartbreaking.

Much like giving two fingers up to leukaemia I suppose all we can do, while I'm still able to function, is to enjoy ourselves and try and create more and more lasting memories.

They never die.

We had a great time today but I just wish this didn't have to come to an end.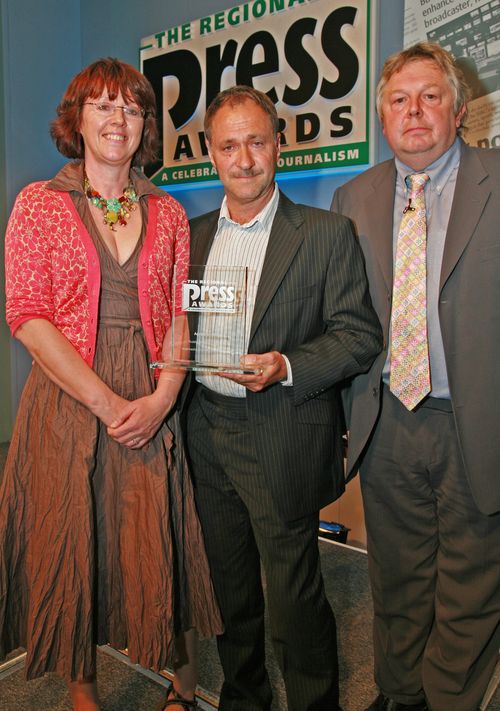 Adrian's parents collecting his Press Gazette award from Nick Ferrari, picture by James Young
Awards report by Keith Sudbury (my dad).
Please note additional story about my editor that mysteriously did not make it into the Huddersfield Examiner's report.
Keith speaks: "My first impression was how formal and prestigious the event was, so my new suit and expensive St Tropez shirt was just the ticket.
Free drinks were circulating all the time with bubbly, red, white and beer.
Mum and I were on table 17 with other members of the Mirror Group.
There was a superb three course lunch with more wine constantly being served.
Pity I was driving, but mum was OK, although we were both struggling with loss of sense of taste and smell due to the worst cold I have had for years!
Just as an aside, I woke up two nights ago feeling terrible, and it did give me some insight into what you have endured 1,000 times worse and for much much longer.
Nick Ferrari was an excellent host. Very professional and kept the event moving along at a cracking pace.
Anyway back to the award. When you were announced, his introduction was very good and very sincere.
I had forgotten that you had done a 'piece to camera' and that was shown as we were on the stage having already having been introduced as 'brave parents'.
Your comment (about a 'hard afternoon with Natasha') went down a storm, and as soon as you had finished there was a spontaneous standing ovation which was both fantastic and emotional.
We had our photos taken with Nick receiving the award and was then asked whether I wanted to say anything.
Now I know that you all take the p*ss out of me about 45 minute speeches (a little harsh I think!) but I had to say something, so I very quickly spoke of your campaign for a compulsory 1 hour 6th form lesson to educate and how they could all genuinely help you by going to your blog and signing the petition.
Mum and I were applauded all the way back to our seats. I wish you could have been there because we were two proud parents.
At the end of the ceremony Nick came to speak with us and I must say cynic that I am, he was charming and sincere.
The chairman of the panel of judges also came to speak with us and said you winning was a unanimous decision and it was on journalistic merits and not emotion.
Many people came up to mum and I at the end to say how inspirational you have been.
We were then invited to the pub for drinks with Roy Wright (Examiner editor) and Neil Benson (Trinity Mirror's regional editorial director).
As we left the ceremony, Roy said rather than carry the heavy glass award around, he would put it into his rucksack.
Two to three drinks later Roy invited us to share his taxi, and as we sped towards St Pancras Station I casually asked Roy if he had picked up his rucksack.
Long story short, and dramatic U-turn, we retrieved the said object which was still on the pavement outside the pub!
Well a brilliant day came to an end. Well done again!"
Keith out.