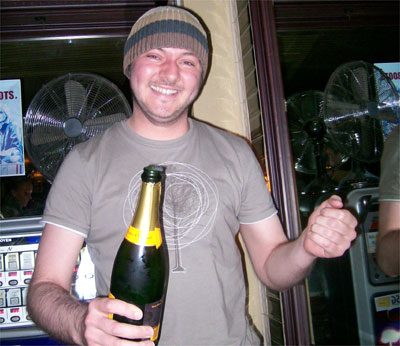 I still can't quite believe it, but yes, it's actually happened, I've started this entry to my Leukaemia blog with the words "Yee-Ha!!!!!"
Baldy's Blog has now scooped an international award in the world's biggest blog competition. From Yorkshire to Las Vegas - who'd have thought it?!
A total of 545,446 votes were cast in 49 categories.
What a result and thank you so much to everyone who voted for me. Last week's voting was so much fun and a really welcome distraction. Can I just say how interesting it's been too reading some of the other blogs in my category.
If any of their authors are reading this I'm just a journalist working in Huddersfield but living in Sheffield in the UK. It's been quite an experience dipping into the world of big-time blogging. There is some really impressive stuff in our category. I wish you all continued success.
I wanted to use this post to re-cap Thursday night and try and reply to some of your fabulous comments that have been posted throughout the competition.
This award doesn't change anything for me but what it gave me, and those close to me, was a very welcome distraction for a week. That voting system was addictive wasn't it?
The result has been an incredible boost. No matter what happens to me, live or die, this is something that will always be remembered and bring a smile to people's faces.
So - this is how the night unfolded.
London- time 8pm
I was invited down to London on Thursday to meet the Anthony Nolan Trust and attend a special media training day at the Groucho Club in Soho. Apparently this is quite an exclusive and famous venue but I'd never heard of it.
Throughout the day I was getting texts saying the blog was still in the lead. Then I got a call from BBC breakfast TV asking me to come on the show the following morning. Really hoped it was going to win now.
The course finished so I tried to get a quick drink in the Groucho Club's bar - but apparently I'm not a "private member". Oh London. So I trundled off with my suitcase, hat and fat steroid head, to meet some of my friends.
By the way the steroids (also now routinely referred to as 'steds' or 'roids') are still keeping me pumped up.
I met my friends from journalism college. First up was Lucy Twitchin who showed me something truly incredible. She works in PR and after hours they actually have an office that transforms into a bar. I feel like I should write an entry just about how magnificent it truly is.
We then headed out to a few more bars and met Laura Oakley, Ashley Rogers and his wife Laura (you may remember them from a previous post), Will Pavia and his girlfriend Brook.
We then saw the news that some huge tidal wave was coming to wipe out the east coast of England. Sure enough, Will - who works for the Times - was called straight away to head to Norfolk.
We were all laughing because it was now a sure bet I would be ditched from the BBC's line-up. You could almost hear the national reporters grabbing their wellies, anoraks and venturing out to the action.
But we all knew that when the media gets itself really organised for a natural event that's supposed to be massive - it's rarely as exciting as it's supposed to be.
Sure enough at 9pm I was phoned and subsequently ditched from TV. The tsunami was coming! (For anyone reading this outside of the UK we were told there was going to be a huge tidal surge in the North Sea which could have flooded thousands of homes. In the end I think two cellars got a bit damp - possibly in unrelated incidents).
But I wasn't bothered - things were still looking good.
At 10pm a friend from university Phil Driver - the guy who ran the London Marathon and raised about £5,000 for the Anthony Nolan Trust - text to say the polls had closed and it looked like I had done it.
To celebrate my friends treated us to a bottle of champagne.
Here are the victorious scenes!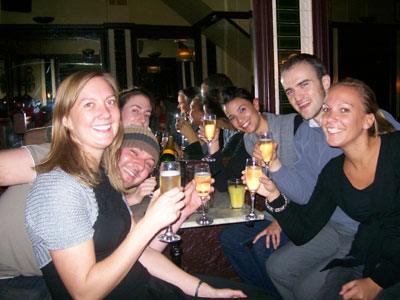 Couldn't believe it! All we needed to hear now was the official confirmation from Liam Mcneilis and Steve Harrison state-side.

Las Vegas - time (I'm a bit confused now)
Hundreds of people were gathering for the largest blog competition in the world.

Liam speaks:


Once again this is Liam, reporting for my good friend Adrian. I've recovered enough from both the hangover and jet lag to let you know how the awards ceremony went.

First off the award was held in 'The Joint' a nightclub within the Hard Rock Hotel. On the night before rock legend Gene Simmons from KISS played a concert here. For our night, The Joint had been hijacked by bloggers.

The 2007 Blogworld Expo party and Blog Awards actually. All across America bloggers, podcasters, social networkers and assorted people who otherwise live on the internet came together for drinks, food, extremely suspicious dancing (people who live on the internet can't dance but a few brave souls did attempt to prove this theory wrong... they didn't succeed).

Of course as well as having fun the purpose of the evening was for those in the room to roar their drunken approval of each others blogs, and find out who won which awards.

The cream of the blogosphere like everyone else like to know who is top dog. I'm pleased to say that the top dog this year, at least in terms of Health Blogs, turned out to be our friendly neighbourhood Adrian Sudbury. The tragedy was of course the old boy wasn't able to join us for all the free booze.

Once everyone has sampled the free grub, and more than a few free drinks, it was time for the winners to be announced. Steve Harrison did the honours and collected the award on Adrian's behalf.

Explaining that we had flown all the way from England to pick this up for Adrian he thanked the organisers and thanked everyone who had voted.

The organiser recommended everyone in the room to read Adrian's "inspiring" blog and privately wished us to pass on their best wishes to Adrian.
If you are wondering - Liam and Steve have been incredible behind the scenes making this blog possible. I hope you all agree it looks really good, regardless of the content, and that is all down to them.
This project is not part of their job but without complaining once they have constantly updated it for me when I have been too ill. I am not a computer genius. I felt like I was in the Matrix when I cut and paste my first bit of HTML (that is the nerdiest joke I have ever made) but any ideas I have had - problems with any pictures or videos - they have both made time to sort it out.
I was delighted when our company's top boss Sly Bailey contacted me to say that they could fly out to the awards on my behalf.
These are the final votes:
Please have a look at some of the other finalists too. I think it shows just how big and important some blogs are becoming.
Thanks once more to everyone from Huddersfield and around the world who has supported me so magnificently.