Baldy's Blog has won another award. Last night I was named feature writer of the year at the Yorkshire Press Awards.
It was a brilliant night and the Huddersfield Examiner also scooped the top award for headline of the year.
It was great going out with my work friends again. Needless to say plenty of alcohol was consumed.
Here are some more pictures from the night.
Meet the team: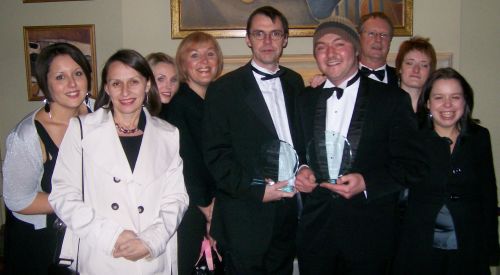 From left, health reporter Anne-Marie Bradley, sub-editor Jane Yelland, video journalist/reporter Gemma Castle, reporter Hazel Ettienne, deputy editor Mike o'connell, fat head, sub-editor and columnist John Avison, reporters Katie Campling and Emma Davison.
Thanks to Bradders and husband Nigel for letting me stay at their place after the awards.
John Avison is an excellent columnist who was short-listed for an award this year. His work picked up a prize a couple of years ago. If you have not read his stuff already you can now see it online at http://www.examiner.co.uk/views-and-blogs/columnists
Gemma Castle in the middle here is the person who has been making and editing the videos for Baldy's Blog.
Victory for the mighty Huddersfield Examiner!