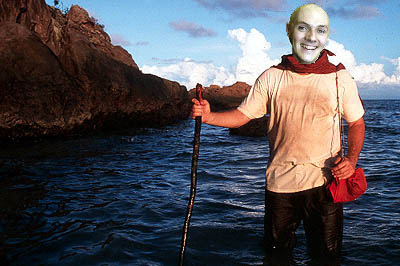 Sometimes I'm so glad I started this blog.

There have been some good times; I say that but on reflection they have been mainly bad.

But nevertheless, my illness and what I've decided to do with it, has undeniably led to some interesting places.

I think you are really going to enjoy this post because it's so different to anything I have done before.

Basically, through Radio Sheffield, I was offered the opportunity to take part in a Desert Island Discs-style show.

In the UK we have this famous Radio 4 programme where the scenario is as follows. If you were to crash on a Desert Island which tracks would you take with you and why.

I've always thought I'd love to do it and when asked to pick my six I jumped at the chance.

It is actually quite difficult to choose so maybe some of you could post your top six too - just to get a flavour of what some of you like out there.

It's an interesting show and has revealed the music likes of top politicians, artists and general eminent figures for the last 40 or so years.
Part 1 of Radio Sheffield Interview
Click here to listen to Brianstorm by Arctic Monkeys
It all came about through this guy Toby Foster.
He presents the breakfast show in Sheffield and is a top bloke.
He is a well-known and successful comedian in and around Sheffield and is one of those characters who pops up randomly on TV from time to time.

For example, he starred in Phoenix Nights as Les the Drummer and the token northern comic in the Christmas special of Extras.

I've met lots of presenters but Toby really made an impression.

Bearing in mind the breakfast show people are often the ones with the biggest egos he could not have been more genuine and supportive.

After my first time on the show he actually read the blog and took time to post a comment.

He is the only presenter who has actually bothered to do this.

When I talk to taxi drivers in town too they always seem to like him as well.

You can always trust a cabbie to be a good judge of character!

I was asked back into the studio when I was told I only had weeks or months to live and we were really rushed.

Afterwards, he asks if I would like to come back in tomorrow and record a one-off special.

If you are objective about it, and when I put my journalist hat on, it is a really good story.

The idea was I'd go home, pick my six favourite tracks, then do a pre-recorded show the following morning.

I loved the idea.

Now without getting too weird Radio Sheffield will probably play this in full when I pop the old clogs - well, it will fill an hour on a bank holiday or something.

But, it's great they have let us use it here because obviously many of you would not have the opportunity to check it out.

What really makes me laugh about Desert Island discs is when they have on politicians or intellectuals.

Their choices are so blatantly determined by the persona they wish to portray - or their spin doctors believe they should be portraying.

David Cameron, Conservative leader, had Fake Plastic Trees by Radiohead as one of his songs.

Regular blog readers will have spotted that I love Radiohead and maybe he does too, maybe he does.
But I just can't see Mr Cameron cruising around in his Toyota Prius listening to The Bends or Kid A.

Dave - please write in and tell me otherwise.

The other lot are in some ways even worse.
Several pieces of really obscure classical music? "Oh yes, I simply adore this exquisite part of the third movement of Bach's Partita Number 3."

Shut up.

Bang on PJ and Duncan's Let's Get Ready to Rhumble and have done with it you pretentious nob.
I hope my choices are an accurate reflection of me.
One final point.
Obviously I'm really keen to share the music with you. We do actually have permission to use Brianstorm because I was hoping to round the blog off to that and asked their management.
Using other tracks gets us bogged down in all sorts of copywright issues. As a work around I really hope the big music companies won't mind us linking through to the tracks on YouTube. They have been on there for ages and look, have a heart, I am dying from leukaemia.
If there is a problem please just get in touch with us first and we will happily remove the links.
Click here to listen to part 2

Click here to listen to part 3
Click here to listen to part 4
Click here to listen to part 5