Firstly, apologies for ongoing problems with the blog.

I would like to say it is the incredible amount of 'traffic' - as we blog nerds say- that is bringing the system down.

Unfortunately, it is spammers hammering the Trinity Mirror systems.

Seriously, have you guys got nothing better to do with your time?

Move out of your mum's house and get a proper job you fat geeks.

Yes; I am fully aware that I am rotund due to steroids and once again living at home - but that is not the point.

On a different note, as I mentioned in this previous post, I have a slight sinking feeling that the Government might back track on making the talk about blood, bone marrow and organ donation compulsory for 17/18-year-olds from the start of the 2009 academic year.

There has been no official statement or release yet.
You have all seen the video from Westminster. It sounds and looks concrete.

But we have come too far now.

I was hoping to round all the campaign stuff off with this post but there are a few loose ends yet to be resolved.

Let me get back to you on this one - and I may be calling on every single one of you to help if things remain unclear.

I am increasingly tired.
But I am dying and there is absolutely no way I am letting this go.
Thanks again everyone for writing.

It's amazing how much love there is out there for me and when I see comments asking how I am I really want to put something on immediately to reassure you all that I am still here and still OK.

I am sleeping more and every week is just getting that bit more difficult.

Moving back in with my parents was an excellent move and they could not have been more supportive.

The countless numbers of friends, family and work mates, who come round every day is incredible. I even had two of my nurses from Rotherham today bring me beer and a load of Ferrero Rocher chocolates.

Things get so crazy some days that I have actually had to create a vague time table so we can try and keep up with who is coming and when.

My sister Carrie was most vexed when she spotted she was on it.

I love all this though, and my parents have really embraced it too, I think just laughing (which is what we do every single day) helps us all so much.

One of the delights of my friends too is that they are very low maintenance!

They will sleep anywhere, offer to help clean up, and bring plenty of food and drink.

If I get tired I just take myself off for a couple of hours.

Although the big gatherings are ace it is also good being able to grab people and have a more intimate chat with them. That has also been really important for me.

So spirits are still high.

Health is a little more tricky but all seems under control and is thus far managed.

This picture shows my back.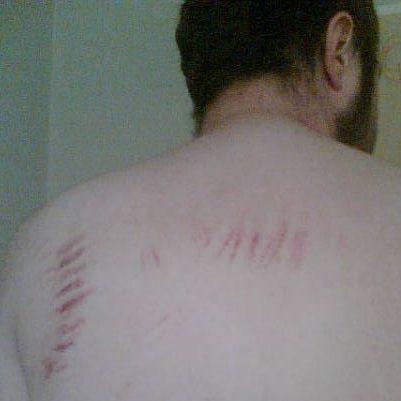 Because of the cough there is excessive pressure put on my blood vessels close to the skin.

As there are no longer good levels of platelets in the blood, which would normally heal all this, I'm left with these strange marks.

They are not uncomfortable or a problem though.

Morphine-reated OxyNorm has also supressed the relentless cough, which in turn has stopped the incredibly painful headaches

Good news is my legs are much better.

I was worried the pain was being caused by the increased steroid dose (it's been shunted up to 75mg a day now).

Leukaemia people, like me, will talk a lot about blood counts.

This is just a way of monitoring healthy levels of red blood cells, white blood cells and platelets.

When your bone marrow is going mental all these are affected and need to be controlled.

Although there is no visible tumour in blood cancers the same principle applies. Cells are dividing uncontrollably and this interferes with the normal processes in the bone marrow.

It appears my white cells are being 'squeezed out' before they are matured and fully operational. This gives me a high white cell count in my normal blood.

This can be quite dangerous as, if you put more stuff into blood, it is going to make that blood thicker.

The doctor believed this could be causing the pain around my knees.

The treatment was to increase the dose of the very mild chemotherapy tablets I have been taking.

Again the idea being that this knocks all your cell counts down again.

If I'm going in for blood and platelets once a week anyway this seems like quite a logical solution.

Thankfully it appears to have worked so that means my quality of life can continue.

That's me covered.

Tomorrow I will post about where the campaign is going.

I've had lots of emails flying between the Huddersfield Examiner and the Anthony Nolan Trust and they probably warrant a bit more detail than being crow-barred in here.

There are certainly lots of interesting projects in the pipeline.

We might even be getting a shout out in the House of Lords very soon too. Will obviously let you all know if this comes off and try and get some video footage.

But more importantly I have come to view everyone who reads this blog as part of a huge army of support.

If there is even the slightest prospect of the Government back tracking on the compulsory talk for 6th form students I know every single one of you will be able to help - and I know we will be unstoppable.

More very soon.