Well - every single one of you reading this is incredible too.

I am even more confident than ever that we are going to pull this campaign off.

I have been discussing it all with Katie Campling from the Examiner and Caroline Berger from the Anthony Nolan Trust.

We have decided we have hit a hump rather than a brick wall.

I hoped that after everything we've worked to achieve - it's not much to ask - that Whitehall would now be able to wave a magic wand and make all this happen.

Basically, it is not as easy as you might assume for the Government to make the talk about blood, bone marrow and organ donation compulsory as such, for 6th form colleges and schools.

Colleges are not necessarily obliged to do it.

However, from September it was only going to be rolled out on a voluntary basis anyway.

Time is still on our side.

We just need to get back to the drawing board and re-think a little bit.

If anyone out there is involved with further education colleges or 6th form schools, and thinks this is a good idea, you might have a better insight into how to make this more formal.

Please get in touch.

I still think if we reflect a little, seek a bit more advice, and please I include all of you in this, and work together, we can put so much pressure from the college end up and on the Government down, that many will have to look at this seriously.

That's roughly where we are now and I will keep you updated next week with more details.

As promised yesterday, there is lots more in the pipeline that will keep this campaign up and running.
1. A big call to the gay community
Remember you do not have to be a blood donor to join the Anthony Nolan Trust's bone marrow register.
Click here for more information.

Huddersfield police officer Mark Carter, pictured here, was crowned Mr Gay UK in 2006.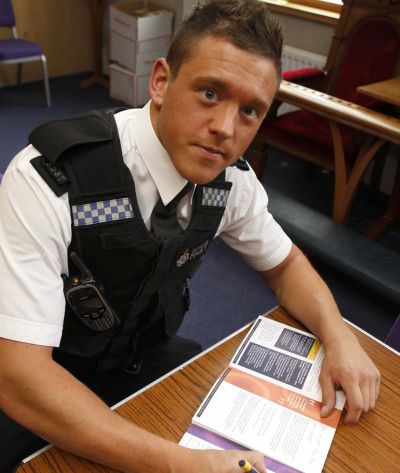 He has backed our campaign and believes that more gay people - who are not allowed to give blood in the UK - would really like to donate bone marrow where they can.


He said: "I knew that gay men couldn't give blood, so I never thought about being a bone marrow donor either. It's something I would like to do now I know I can.�

Rebecca Sedgwick, one of the charity's donor recruitment managers, said: "We now no longer refuse people to join on the grounds of their sexuality.

"We ask all people joining to be honest and exclude themselves if they are involved in high-risk sexual practices that may increase their risk of exposure to transmissible diseases."
If any of you know people who are gay, please forward this blog onto them and spread the word.
For the full story click here.
In Huddersfield there is a brilliant annual event known as the Pink Picnic. PC Mark Carter is looking at doing a sponsored run and we are hoping to get either a bone marrow drive or bone marrow information stall at this event.

2. Katie Campling will address Huddersfield's Inter-Faith Council and take along information packs about what it's like to be a bone marrow donor on July 13.

3. Kali Moutford MP has set herself the objective of getting all the UK's eligible MPs on the bone marrow register. Will let you know when she makes this happen. I'm sure she will!

4. With the help of the Prime Minister, hopefully, Kali Mountford is still pushing the Government on the idea of a national TV/video campaign.
My hope is it would just dispel so many myths instantly by showing people images of what it is like to be a donor these days.
I still have no idea about costs, or whether this is too much to ask for, but Kali remains confident:
"I would like the video to go out nationally with a campaign similar to the one about giving blood. This would great as well as using the video in schools. It is something that should be easy to access for people of all ages."
She is going to ask Alan Johnson about getting more funding from the health budget to perhaps help have regular clinics in set places every couple of months.
"People just don't know where to go. We need to get regular clinics in place so that people know exactly where and when they can sign up.

"We are up against hot competition for people's attention.

"For instance there are millions dying of Aids in Africa, so people may ask why we're worried about 16,000 people dying because of lack of a bone marrow donor?

"But it something we should be able to do something about and help those people. There is a solution for this problem, a quite easy solution. Other issues will keep coming up and we have to make sure this stays in people's minds."
Again, the importance of this campaign and everything we are trying to achieve is highlighted again the Examiner.
I'm sure this tragic story is echoed up and down the UK and all over the world.
It does not need to keep happening.

5. Let's keep going with this petition.
We currently have over 6,500 signatures. By the time we hand it in officially, on July 23, let's try and aim for 10,000. It has currently been signed by Gary Lineker, Natasha Kaplinsky, Jeffrey Archer and a load of MPs.
I know most of you have already but please click this link and email it once more to everyone you can think of. Get it on Face Book, My Space, any of the social network sites you know of. Forward it round your families, schools, friends, colleagues, sports teams, doctors surgeries, hospitals - anywhere you can think of.
We have got a great idea for a photo opportunity outside 10 Downing Street!

6. As the Examiner puts it: The Sudders Effect!
Remember, in the UK there are two bone marrow registers. You only need to be on one.
Both have reported a decent surge in people joining up since I started writing my blog.
The National Blood Service have said that in the same period I started writing Baldy's Blog, as compared to the previous years, the number of people joining up as donors has doubled.
If you already donate blood you can just join the register next time you pop down to give them some of the red stuff.
Click here for more information.
The Anthony Nolan Trust have said that since we launched the campaign - which bear in mind was only on May 15 (!) - they have had over 150 people join the register and 1,222 inquiries.
Around 500 inquiries were made in the same brief time period last year.
Not bad - but I know we can do better.
A spokesman for the charity said:
"There has been a surge of interest from the public following Adrian's call for better education on bone marrow donation, and The Anthony Nolan Trust is identifying the best way for the Charity to be involved in educating 17 to 18-year-olds about bone marrow donation.

"Not enough young people know what's involved in donating bone marrow and it's crucial that we help 17 to 18-year-olds understand this issue so that they have the chance to become lifesavers by joining the Anthony Nolan Register.�

"Adrian's vision and determination follows in the footsteps of the pioneering Shirley Nolan, who campaigned tirelessly to create the world's first bone marrow register. Adrian's campaign helps bring the issues of bone marrow donation to a wider audience. The Anthony Nolan Trust is delighted to be working with Adrian and Kali Mountford MP, to move the campaign forward."
As most of you are reading this I will be in hospital again having blood and platelets.
Got some really good friends coming over for the weekend so hopefully I will be having another fun time.
I will, of course, keep you posted if anything else fun/bad or amusing pops up.