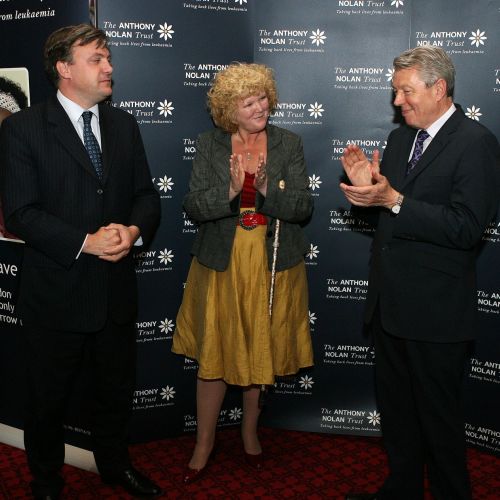 Ed Balls, Super Kali Mountford and Alan Johnson
I am delighted to tell you all that the campaign to get a compulsory talk to all second year 6th form students about blood, bone marrow and organ donation became one step closer to reality today.

Commitments have now been made from both our Secretaries of State for Health and Education, Alan Johnson and Ed Balls, that they are going to do everything they can to make this happen.
Thank you so much.
Britain will really lead the way in educating our young adults from this day forward.

I am absolutely thrilled and would again like to thank all of you wonderful readers for keeping up the pressure too. (Have a look at the video report below to see just how good the MP turn out was!)
Someone commented that this whole project, your determination to make this happen and the interactivity with all your parliamentary representatives, really restored a sense of democracy and being able to do something positive.
I could not agree more and it has been genuinely wonderful working with all of you on this.
I have to add too, how many people have cabinet ministers saying they have felt like they have been running your fan club for the past five weeks?!
Click here to watch Mr Balls, Mr Johnson and Ms Mountford - I think you will like it.
The results from today's unprecedented event at Westminster include:


1. Commitment to roll out the Give and Let Live Scheme to all 14/15-year-olds from September.

2. It's too short notice to begin a similar talk in a more adult context for 17/18-year-olds from this September. But colleges and schools will be written to to take part in voluntary events. I know many of you are already but here is a great chance for you to express your support for this initiative by writing to the top people.

3. If this proves successful, the talks can be developed and rolled out as part of the national curriculum for the following academic year.

4. Several MPs and cabinet ministers gave a blood sample and joined the Anthony Nolan Trust's bone marrow register.

5. Many more signed our petition and took away special packs explaining how to set up clinics in their own constituencies.
On general reflection I would say that was a success.
Once again massive thanks to Kali Mountford MP for making this all possible and legendary Huddersfield Examiner reporter Katie Campling who has worked so hard behind the scenes to pull this off.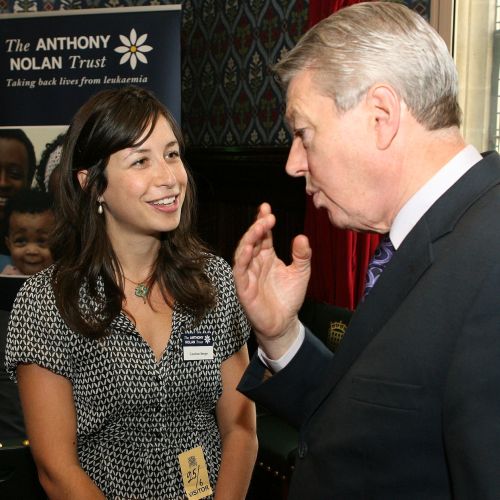 Caroline Berger from the Anthony Nolan Trust and Mr Johnson
Special report by Katie "Campers" Campling
Government ministers and MPs have signed up as bone marrow donors at a special clinic held in the House of Commons.
MPs, Westminster staff and even cabinet ministers visited the Anthony Nolan Trust (ANT) donor recruitment clinic in the Jubilee Room of the historic building.
The clinic was organised by Colne Valley MP Kali Mountford as part of the Examiner and Adrian Sudbury's campaign to recruit more donors to the register.

A key part of Adrian's campaign is to push the Government to ensure 17 and 18-year-olds are educated about donation as standard in schools and colleges.

This is the crucial age where young adults can give blood and join registers should they choose to do so.
A total of 14 people signed up as donors at the clinic - including cabinet ministers Secretary of State for Work and Pensions James Purnell and Andrew Burnham, Secretary of State for Culture.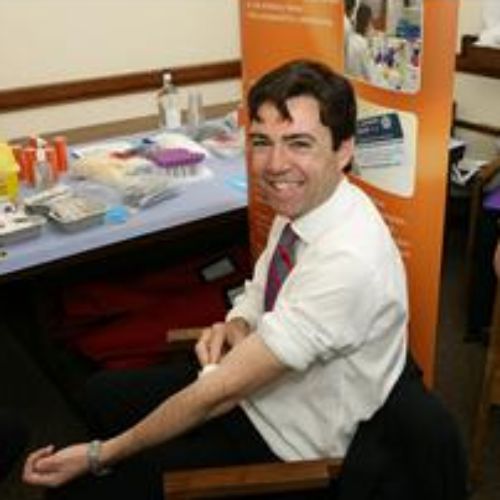 A small blood sample from a cabinet minister. Andrew Burnham MP could now potentially save anyone's life around the world if he is a match for them.
Mr Purnell said: "I was not really aware of bone marrow donation before Kali Mountford talked to me about it. But I think it's something I would be prepared to do.�
You have to be aged 18 to 40 to sign up as a donor with the ANT.
Those ministers and MPs that were too old to become donors also had a chance to help, by signing the campaign's online petition,calling for better education about donation.

ANT chief executive Dr Steve McEwan with Mr Johnson

The petition on the Downing Street website already has nearly 6,500 signatures.
Click here to sign and help keep the pressure on.
MPs signing it included Halifax MP Linda Riordan - whose son donated bone marrow five years ago - and Hull East MP Mark Tarmy, whose 10-year-old son underwent a bone marrow transplant for leukaemia last year.
He said: "It's very important. There's seven other kids in hospital, who were there with my son, who are still waiting for the phone to ring to say they have a transplant.�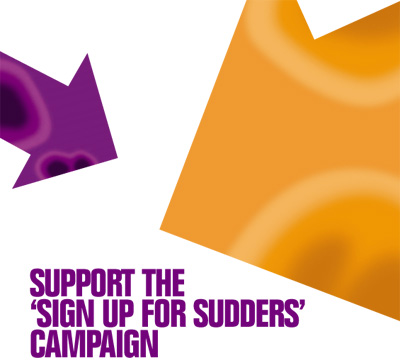 All attending MPs left with campaign material
Dawn Primarolo, minister of state for public health, added her support.
She said: "This campaign is seriously impressive. He is inspiring people and getting the message across in a simple and understandable way. It is a privlege to be associated with it.�
Health Secretary Alan Johnson and Ed Balls, Secretary of State for Children, Schools and Families also gave a speech at the event.
They met with Adrian back in May and have pledged their support for his campaign.
The Government's donation education programme, Give And Let Live, is due to be rolled out to 14 and 15-year-olds in schools from September.
But the ministers said they were still working hard to implement Adrian's wish, for older teenagers to be educated.
Mr Johnson said: "Since we met with Adrian, I could officially be described as the secretary of the Adrian Sudbury fan club and Ed is the chairman.
"Adrian made a real impression on us. I have never met anyone with the passion of Adrian. It was really, really inspirational.
"It is Adrian's passion that we get the message across to people as young as possible. Adrian is focused on the 17 to 18 year olds.
"We are talking to the Anthony Nolan Trust and we are really galvanised in our departments to see what more we can do. We will ensure that the Adrian Sudbury fan club delivers.�
Mr Balls added: "It is a great pity that Adrian can't be here although we will all have the chance to go on his blog and see what he makes of it!
"You see from his writing and also when we met him the passion, purpose and determination that good things will come, come what may for Adrian.
"We are determined to do what we can to back him to make sure young people get the chance he is not going to have,�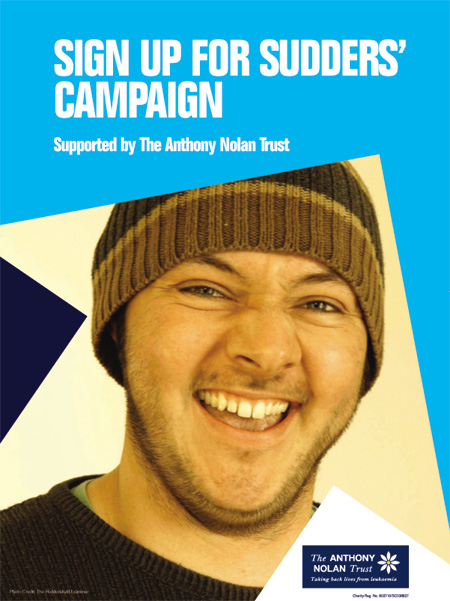 MPs can then try and spread the word in their own constituencies and set up their own clinics.

Mr Balls and Mr Johnson are writing to all schools in the UK over the summer, asking them to ensure the Give And Let Live scheme is implemented.
Kali Mountford said she was thrilled with the response to the clinic from her fellow MPs and ministers.
"There's more great work going on here today with the people who are signing up to the register. Without you this event would mean nothing at all. It means a great deal to Adrian and me.�
Dewsbury MP Shahid Malik also signed up to the register yesterday. He said he plans to try and stir up interest in his constituents about the issue of bone marrow donation.
He himself is averse to needles, but said it was a fear worth overcoming in the name of a good cause.
"It has been a very powerful and incredibly brave thing that Adrian has decided to go and fight not for himself but for others.
"I will certainly over the coming weeks look to organise awareness events in Dewsbury. I want people to understand what's involved in being a donor and how it can save lives.�
Even before the event happened today it was recieving media attention from Channel 4 News, AOL and a huge UK journalism website.
Please drop us a comment if you spot it anywhere else!