I think it's fair to say that went pretty well.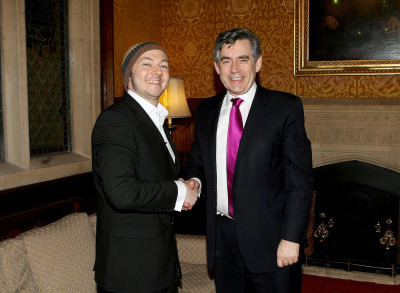 This is what I set out to achieve - the introduction of a 40 minute talk to 17/18 year olds about blood, bone marrow and organ donation.
I firmly believe that if our young adults are given all the facts about these important issues many more will go on to become donors themselves.
Backed by the Huddersfield Examiner and local MP Kali Mountford I honestly believe this can happen.
While I was in London the Anthony Nolan Trust told me the numbers waiting for bone marrow transplants had actually increased.
They are currently trying to find matches for 16,000 requests, mainly from the UK, but also for patients around the world.
Without matches these people will die.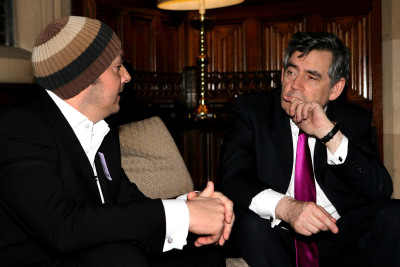 As well as meeting Prime Minister Gordon Brown to discuss this idea, I was also able to chat with the Health Secretary Alan Johnson and Education Secretary Ed Balls.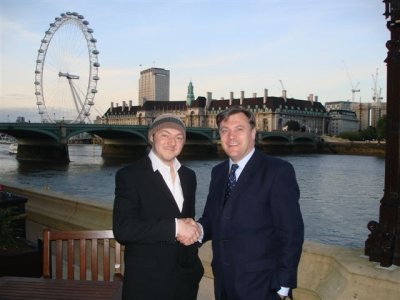 I must say a big thank you to Kali. Her desire to help and to actually arrange these meetings was incredible and I am hugely grateful for all her considerable efforts.
This then is the story of a crazy couple of days and me being an outrageous media whore.
I drove down to London on Saturday in preparation for a busy week ahead. I had always planned to do this, no matter what the outcome of my treatment had been - good or bad.
In the UK there is a huge problem with the perception of bone marrow donation. No one seems to know much about it at all.
I enjoyed the FA Cup final with some beers and some dirty take away food. Forget smoked eels at Gordon Ramsey's - sometimes kebab meat and chips are just what you need.
Sunday and Monday were taken up with organisation calls and emails.
It was on Tuesday that things really started to kick off.
Much of the morning was spent in north London filming pre-recorded bits for BBC Breakfast.
It was the phone that was the problem - it never stopped ringing.
I'd answer one call then have voice mails waiting once I'd finished. I'd listen to them then a further six had come in while I was listening to the first lot.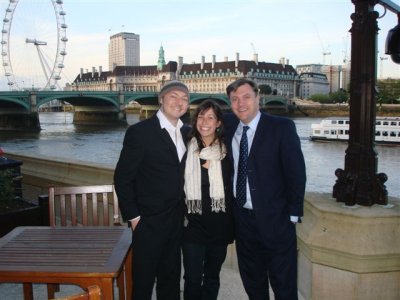 At one point my friend Caroline from the Anthony Nolan Trust (Shown in the picture above) helped me out while I was filming. Apparently one researcher asked her if she was my PA!
I got in a taxi to do some filming with the Yorkshire TV news then I decided I wanted to make a bit more of an effort.
I flagged down another cab and asked the driver to take me to the nearest suit shop. I decided that if I was going out in the House of Commons, and meeting all these important people, I should really try and look the part.
They were great and even ironed my shirt.
I just wore the whole ensemble out of the shop. That's the kind of behaviour people who are dying should indulge in more often.
On the way into the Commons I met Alan Johnson - Secretary of State for Health. He listened and was quite knowledgeable of the subject because one of his constituents had been involved in a hunt for a bone marrow match.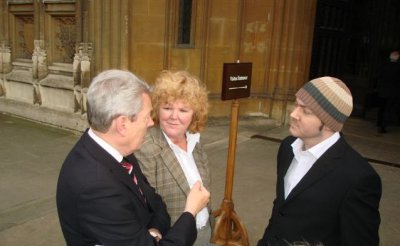 He was very supportive and really seemed keen to help out as much as he could. He said there was already a pilot scheme for 14 and 15 year olds so I said let's expand this to the key age of 17/18 where you are old enough to join the register if you so choose.
Mr Johnson also said he would look into whether there was money available to help raise awareness possibly in the form of some national campaign.
I was then able to meet Education secretary, Ed Balls. He was really helpful. He explained that the Citizenship scheme - which I didn't realise ran through secondary education into college - would provide a structure on which to hang this talk off.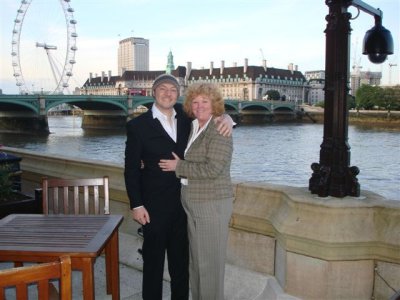 With business concluded, Kali then treated me and Caroline, along with her husband Ian, to a superb meal in a splendid restaurant in the Commons.
The food was exceptionally good and the pudding trolley was worth the trip in itself!
The meeting with Gordon Brown on Wednesday was a great experience.
In the UK Mr Brown is criticised for not as being relaxed in the media as Tony Blair was, but one to one he is really approachable, good company and listened to everything I had to say.
I am still quite touched that he spent a good 20 minutes of his time with me - that is a hell of a lot of time for this issue when you have got a country to run.
Later that day it was reported he was meeting with other OPEC leaders to discuss ways of reducing world oil prices and yet there he was chatting to this guy from Sheffield with a suit and daft hat on.
What I've always like about this campaign is that it's easy to sort out and would not cost much money.
Mr Brown even suggested taking it a step further and seeing if we could get a video campaign to support it.
He asked me to suggest a couple of celebrities I thought would be good to front it and that he would personally write to them on my behalf.
Don't get me wrong, Mr Brown is a skilled politician with a towering intellect. Nothing was committed to during that chat.
But I left the meeting feeling like he really wanted to help and that some sort of lasting change is going to take place.

Adrian Sudbury: Media Tart
Just for the record I thought you might like an idea of what it was like for me on Wednesday. It did go pretty mental.
1. 6.30am. Wake up in Regent's Park Hotel. Breakfast show arranged car over to BBC studio.
2. Car doesn't turn up so have to jump in cab.
3. End up in green room getting nose powdered.
4. Into studio, meet presenters Bill and Susanna. Always had a little bit of a thing for Susanna so glad she was nice in real life. She asked me if I liked Genesis because they were on next. I said no and we laughed.
5. Interview went well then popped upstairs to take part in Victoria Derbyshire show on 5Live.
6. Great to meet her and all her team who I have spoken so much to on the phone.
7. Arrange to meet local TV and Channel 5 news at Westminster at 11.30.
8. Feedback from listeners really good. Lots of support for the idea and people sending in tons of good comments.
9. Quick change into suit then jump in a car (the media outlets arrange all these for you).
10. Ten missed calls, five voice mails, 11 texts.
11. Use the car time to try and get through them all but becoming increasingly difficult.
12. Shoot pre-pieces outside Westminster with Channel 5 news and local ITV news.
13. 12.50pm, meet Kali Mountford MP and her office manager at St Stephen's entrance.
14. Confusion over who is allowed into film. End up with three crews, the MP and me all traipsing through security. Real media circus.
15. People beginning to recognise me and shake my hand in the street. Incredible feeling. All supportive and saying what a good idea it is.
16. Arrive outside meeting room in House of Commons. Final say from Downing Street Press Office is it's a private meeting but there will be an opportunity at the end to get some film/stills.
17. Complete meeting and dash over to Westminster studios to do a live with ITN lunch time news.
18. Back out into the parks around Parliament to finish filming with local ITV news and Channel 5.
19. Free half hour so grab lunch in the Commons with Kali and Ian. Pasty, a pie, brown sauce and a lager shandy.
20. Back out into parliament square to record a piece for the local BBC news.
21. Another car back to the national BBC news centre to appear on BBC news 24 channel.
22. Cup of tea, quick change back into normal clothes, a few biscuits, and charge phone back up.
23. Interview goes out live at 5.30pm then off in another car to NBC studios.
24. Record more of a magazine piece with them then get another car back to Balham for a glass of red bull and a packet of crisps!
25. Get to my car and drive home.
26. Arrive back at parents near Nottingham just before midnight. Mum lovingly prepares some spaghetti and a glass of red wine.
That was quite a day!

I have to add for the record that I am not brave.
Loads of people - especially on TV- keep saying that to me.
I'm not dodging bullets in Afghanistan, losing my child, challenging difficult children or keeping our streets safe.
All I've ever done is get ill and write about it.
That said all these wonderful comments are overwhelming, fantastic to read and often breathtaking. I've had to set my mum on as a full time moderator! I think she quite likes doing it though.
One final point.
When I got back to Sheffield it turned out my blood counts had really dropped. I had done all this with the equivalent of three bags of blood missing from my body.
That is hardcore.