I am absolutely exhausted but it's worth it!

The campaign is going well and thousands of people have signed our petition - please keep signing if you haven't already and spread the word far and wide.

Kali Mountford MP phoned yesterday and said the plan is now to raise the matter in Parliament again this week, hopefully at Prime Minister's Question Time on Wednesday.

As a collective group the Huddersfield MPs are then looking at tabling a number of motions to keep the campaign on the Parliamentary agenda.

On a sillier note, I promise this is the last of these mildly amusing pictures courtesy of Liam in Liverpool (you didn't think a print journalist could do all the technical stuff on his own did you?)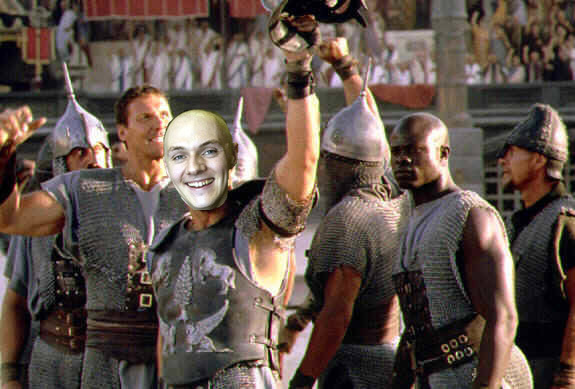 He said I was like a pasty Maximus from Gladiator and it made me chuckle so hope you all like it.

Warning: This post contains footage from a night out in Huddersfield with the Examiner team.
After recovering from the house party on Sunday I went to stay with a friend on Monday then headed back to Huddersfield to see all my colleagues.

I'm not quite sure how I'm doing all this but essentially I'm powered by a combination of steroids - I've increased my dose back up to 50mg a day - and knocking back cans of Red Bull energy drink.

Seems to be doing the trick.

My chest is becoming increasingly difficult but I am determined to have as much fun as possible while I still can.

The turn out on Tuesday was brilliant and really touching. Loads of people came out for a drink and it was great catching up with people I've not seen for ages.

They are a brilliant crowd and it's been a privilege working with them all.

Even the lads I used to play 5-aside football with were there - but that was mainly to remind me how crap I was.

Having been away from the office for quite a while it was so touching to go back in and see all these posters up everywhere screaming "Sign up for Sudders!" then a picture of my big head. It was like something out of Citizen Kane.

It just showed me how much work the editorial team - and in particular reporter Katie Campling - had done behind the scenes to make all this come together.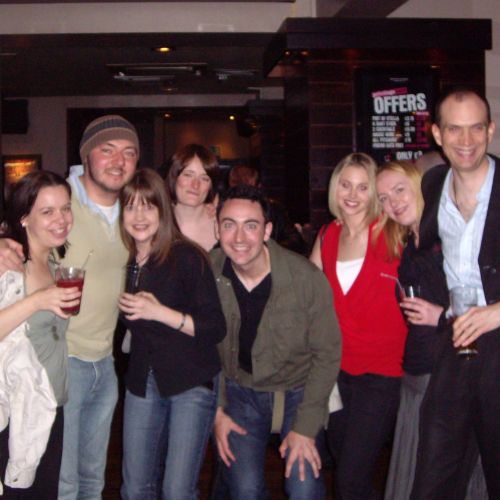 There are two indications of just how big this campaign is becoming.
Firstly the Anthony Nolan Trust phoned the other day to tell me a THIRD of all their website traffic was now coming from this blog.

Secondly, the number of people who have signed our petition is comparable to the campaign to get Bruce Forsyth a knighthood.

This, my friends, is the big time.

Anyway, back to Tuesday.

After catching up with everyone in the office we headed down the street to bar 1535 for drinks.

There was a lovely range of ages and different people who I have worked with over the years.

People couldn't stop buying me drinks and were coming up to me and having heart to hearts. It was wonderful.

On this subject, my situation does generate some incredible responses from individuals.

I wrote in a previous post when I was so miserable that once some friends truly understood the situation all they could offer is their deepest, darkest secrets.

Although I have been incredibly unlucky and this is a tragic situation, I have equally never experienced such an outpouring of love and affection from so many.

I suppose this is something that most people will never get to experience but I have to say it is something uniquely special.
It is an opportunity many of us will not be able to have.

It's like people realise they might not see me again and just open their hearts, revealing a level of honesty and truth, few people ever get to encounter so regularly.

It really is something beautiful and, along with these stunning comments that you all keep posting, I have never felt so widely cared for and appreciated in all my life.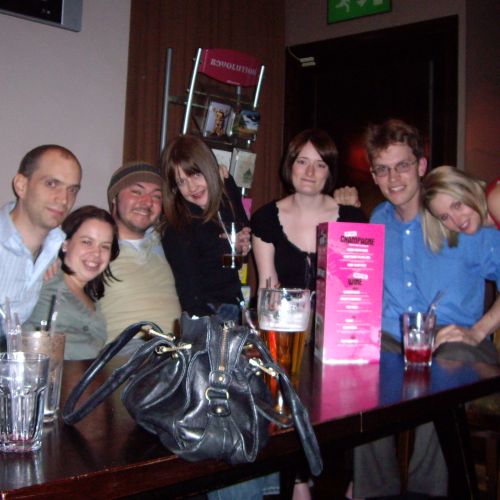 I wish me and Mr Luke Eemia had never met but these are truly special and incredible days. I would be great if it was something everyone reading this blog could experience.

Basically, what I'm trying to say is just please don't feel sorry for me - I'm having a great time!

After finishing up in 1535 the hard-core crowd sauntered up to Revolution in the centre of town for vodka and cocktails.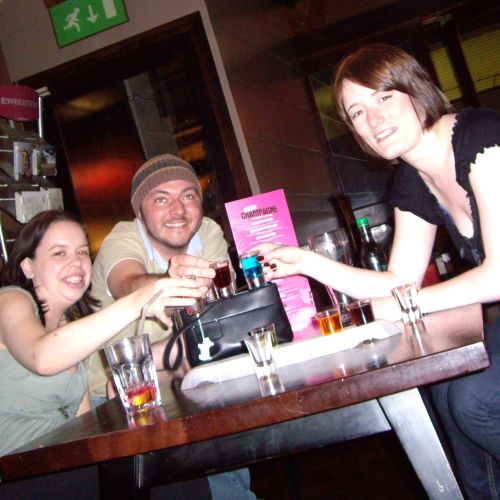 Huddersfield is not exactly buzzing on a Tuesday night but we all loved it.

Finally got to bed about 3.30am.

Thanks again to everyone who came out and for all the good times.

I know at the start I did promise no more funny pictures but I couldn't resist this one. Nice one Liam.