I have noticed there have been one or two requests to find out how I am feeling at the moment.
I reckon this just about sums it up.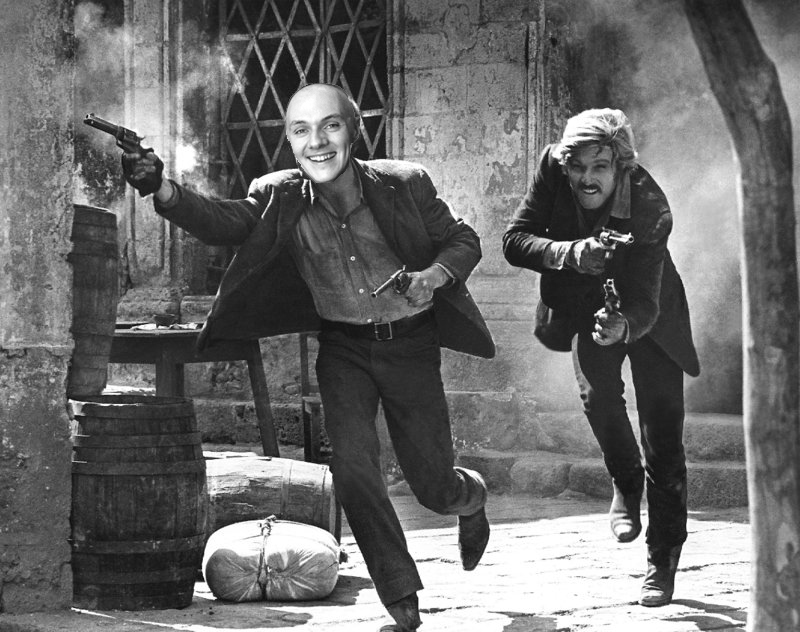 This final shot taken from the film Butch Cassidy and the Sundance Kid - not actual footage - sums up perfectly how I feel.
I can't beat this leukaemia but I can make a difference, I'm making the most of every breath I have left, I am spending time with some of the most wonderful friends and family anyone could ask to share their lives with; but more importantly I'm going down in style.
I wish I had never been hit with this disease and I wish I could have been cured.
Neither now apply, so all I can do is keep laughing, campaigning and say: "F*ck you cancer.�
How many people in their lives ever have a week like that?
I got to have dinner in the Commons, drink with Secretaries of State and then talk with the Prime Minister for 20 minutes.
I was wearing a suit and a bloody beanie hat in Parliament.
Not only that, I spoke live to millions of people on local, national and then international news. How many human beings ever get the opportunity to talk in front of up to 170 million people?
The numbers are literally head imploding if you think about it too much.
These are undoubtedly dreadful circumstances but actually it's important for me that you all know I am having a blast and making, again, the best I can of a challenging situation.
With the petition going incredibly well I am determined to leave behind a lasting change that will benefit hundreds if not thousands of people in the future.
And I think the Government are listening as well. Gordon Brown has already written back to me asking for a list of celebrities that he could write to on my behalf to be involved with a video campaign to dispel the myths of bone marrow donation.
On top of that MP Kali Mountford has said she will continue to raise our campaign in Parliament and with all your help, and that of my journalist friends, I really think the pressure can be sufficiently maintained.
I won't let this lie because I know there are so many people who are reading this blog who are waiting for, or know someone close to them, who need a transplant.
These people deserve a chance and it will be one that can be given them through better educating our young adults.
The media interest will fade now.
That was why it was important I squeezed all the awareness I could while I was flavour of the day and had good energy levels.
As we print hacks say: "Today's news, tomorrow's chip paper.�
With the campaign in full swing, my energy levels are now starting to taper off but I'm not done yet.
Now is the time to spend time with those who I care about and have supported me throughout all this.
There was one other mission I needed to take care of and that was to honour my commitment to Phil Driver.
You may remember my excellent friend Phil - great guy - who ran the London Marathon on my behalf and organised a huge football tournament, all in aid of the Anthony Nolan Trust.
A couple of months ago he asked me to be his best man. I naturally agreed but had a bad feeling I might be unavailable for selection next summer.
So what I've decided to do, with help from colleagues, is make a special video speech from Liverpool - where we met at university.
The filming for that is done now and I hope it's something both he and his beautiful bride-to-be Emma really like.

House Party
None of us choose when we are going to die but it is something that will happen to us all.
So let me ask you this.
What would you do if you were in my position?
My answer is forget all that sky diving, driving a super car really fast drivel. Get your friends round, get your family round, get Johnny the German Shepherd puppy and your six-year-old cousin over, sit out in the garden, have some great food and crack open the booze.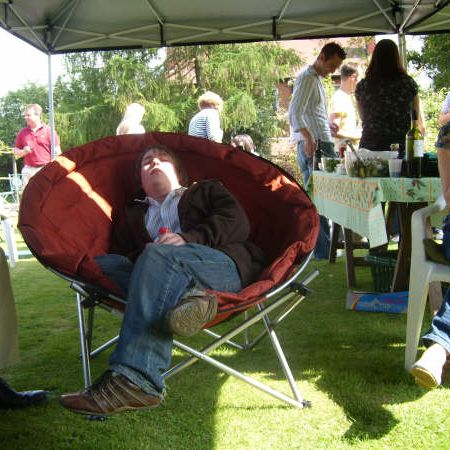 A slow start
Saturday will go down in my mind, and I'm sure many of the people who rocked up, as one of the best parties ever.
It was absolutely brilliant.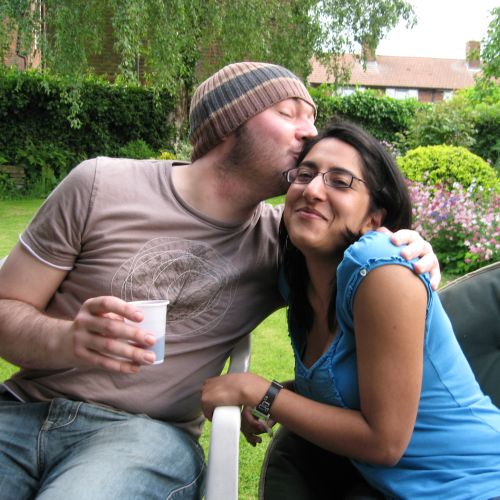 AD and Mish
Kicking off at 1pm at my parents' house with my grandma, and friends of the family, there was then a steady squad rotation of additional family members, former Nottingham college friends, mates from journalism school, friends of friends and of course the whole crew from Liverpool University.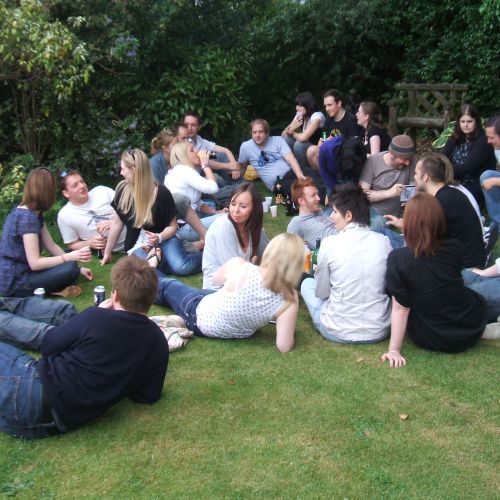 There were no plans as such and people just brought along a bit to drink.
My best mate Ben sorted out a lot of the food along with my wonderful aunty Helen who also kept things ticking over behind the scene.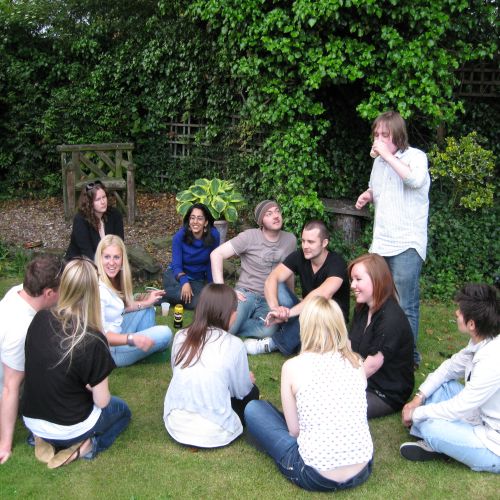 My mum slow cooked a huge piece of pork so there was plenty of food for people to tuck into throughout the day.
As you can see from the pictures my mum and dad have worked hard over the years to make this beautiful garden and we got so lucky with the weather.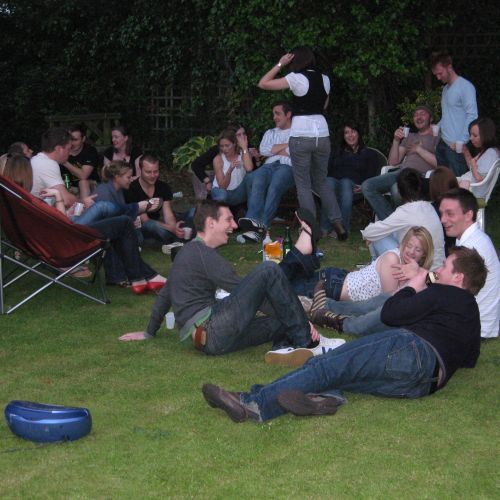 I was keen to point out that some clown would get drunk and end up falling in the pond - but I have to say it was a very civilised affair.
Despite there being a hint of sadness this was not a mawkish gathering just one awash with laughter and old friends having a splendid time together.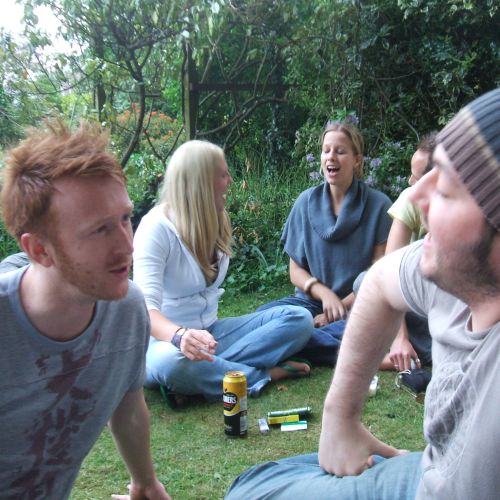 Smokers' corner - it gives you cancer guys
Every corner you turned you could bump into another interesting conversation, another laugh about old times and people who I care so dearly about.
I loved it because although I was the reason for the party, I was not the centre of attention and I didn't feel like that's why people were there. There were no speeches or anything serious, just lots of fun.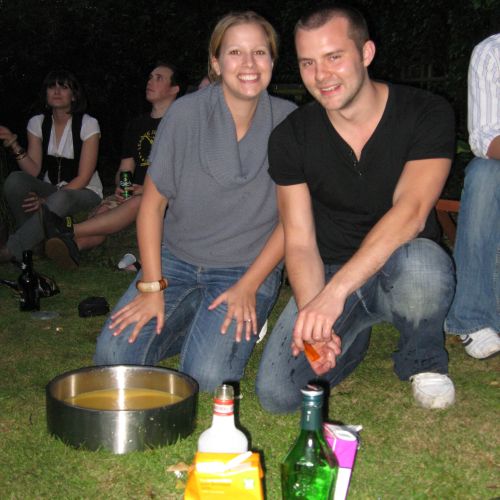 Ben and Emma make the punch
We sat outside until close to midnight, drinking punch, wine, joking, laughing, chatting, listening to music. I honestly could not have asked for a better evening with my friends.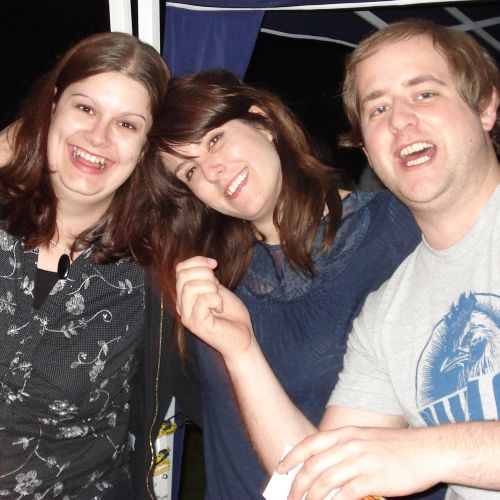 Zoey, Mazzle-Dazzle and Ant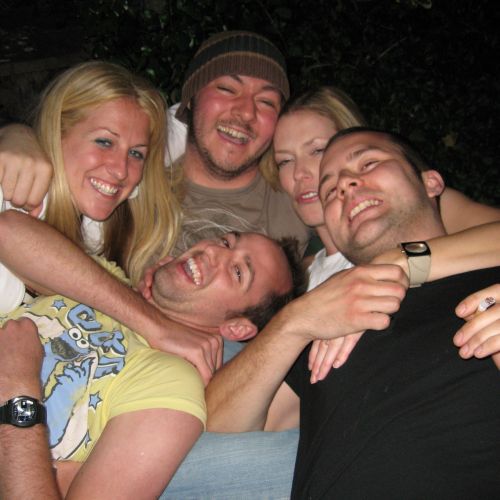 Phil, some bloke with cancer, Ben, Rachel and Sarah
We then retreated indoors to this karaoke game on the Playstation called Singstar.
You have got to love that game. I love the feeling of waking up in the morning and wondering if you've got a throat infection then suddenly realising no, you were just singing badly and loudly.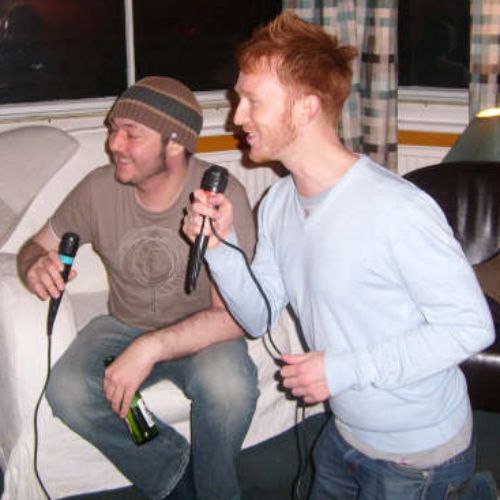 Olie and me rocking it

Time melted into the night and I took it upon myself to look outside and make sure everything was locked up.
I got outside, lost my bearings and suddenly realised my lower legs were drenched.
I was the drunken idiot who had ended up in the pond!
Laughing, I hauled myself out and began my shameful return to the house. I took off my soaked shoes, and in true comedy fashion poured the water out of them.
I then realised I did not have another pair of trousers.
I went upstairs to try and solve this problem when I met one of my friends Nel.
We were having a laugh about the story and she was helping me come up with some spare trouser ideas when she suddenly stopped, her jaw dropped, and said: "Boy, you are bleeding!�
I looked down and saw there was a whole trail of blood throughout the house, all over my mum's wooden floors, and then this big pool on the carpet upstairs.
Well, we couldn't stop laughing.
I took off my jeans to reveal a major gash in my right shin no doubt riddled with pond bacteria and other nasties.
Thankfully, I had a bag of platelets two days before so I was pretty confident I wasn't going to bleed to death.
It was just one of those beautiful drunken moments where you are not in any pain, trying to stem a major bleed with scrunched up bits of tissue, all in a pair of unfortunately coloured bright blue boxer shorts.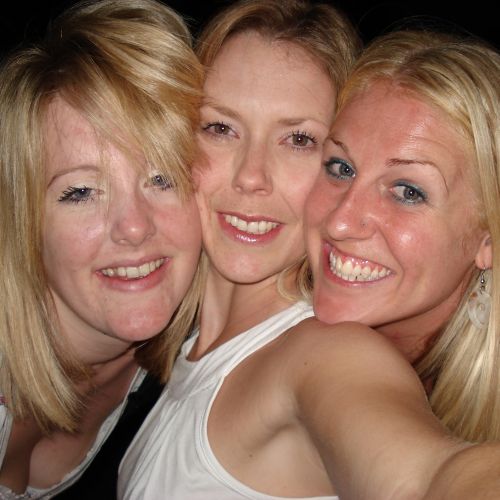 Poppy, Rachel and Dr Sarah Brown
Anyway, to cut a long story short one of my friends, Sarah Brown, is a newly qualified doctor and I was surrounded with health professionals who were on hand to help out.
We washed it out and patched it up - no septicaemia yet my friends - and carried on drinking.
Got to bed about 4.30am.
Just to summarise how good the party was, here is a list of things that were left behind the following day;
1. A cardigan
2. Two iPods
3. Jewellery
4. A small bit of sick close to the herbaceous border
4. One sock
5. A pair of girl's knickers
If anyone knows who these belong to please get in touch.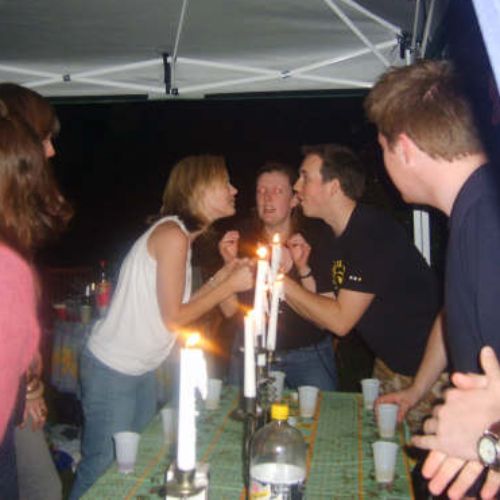 A game of cups up
When the option was put to me about further intensive treatment; that it was unlikely to work and that potentially it could kill me- there was no choice to make.
This is how I want my friends to remember me. Not crunched up vomiting into a sick bowl, miserable through the discomfort of chemotherapy.
But as someone standing on their feet, fighting to make a small but important difference, and most of all laughing with those I love and with those who love me.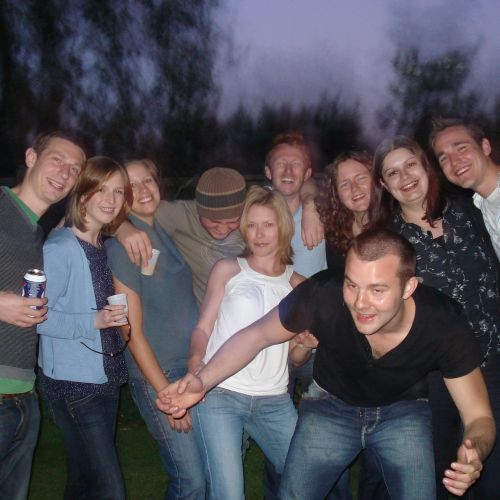 The team