I must begin this post with some more sad news.
My much loved N-reg Fiat Punto has died. I had come to think of it as the Herbie of the Leukaemia world.
Time of death 3pm Tuesday March 31 2008.
Location: M1 northbound just short of Wooley Edge services between junctions 38 and 39.
RIP little guy.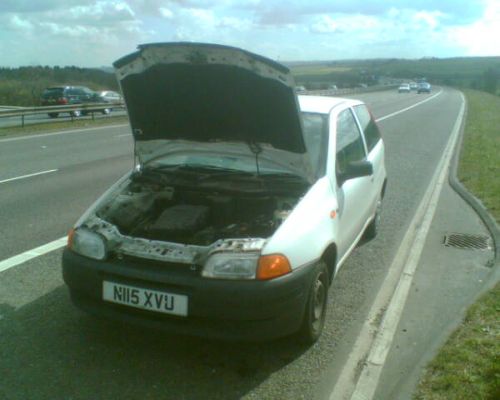 Of course my old car giving up the ghost wouldn't normally feature in my leukaemia blog but it's such a strange story I thought I had to include it.
My friends and family all knew the Punto well.
It had done the best part of 114,000 miles carrying me and many others all over the country.
Fans of this blog will recall me 'riding dirty' in my Punto on my road trip in November.
Despite much love for these wheels I'd been planning to get a new car for ages. I managed to save a bit of money last year and, along with some cash from the awards, I bought a 2005 Vauxhall Vectra.
The deal was done last week and the Punto was to be part exchanged - basically £75 for scrap.
So yesterday I finished my work for the Examiner and headed up the M1 to Dewsbury. About five miles into the journey I noticed the car was losing power.
I shifted down into fourth gear and managed to maintain a good 60mph.
Then smoke started to appear from the exhaust and I knew it was terminal.
My speed dropped again so I slammed it into third.
The engine screamed - so I turned the radio up. That didn't help. I was only about 15 miles away so if I could just keep going...
By this time I was doing 40mph and so much smoke was pouring out the rear that I was becoming a serious hazard.
Lorries were overtaking me but the final straw was one when a caravan sped by.
I spluttered onto the hard shoulder, opened the bonnet, only to be greeted by a huge amount of steam.
It was like something from a cartoon.
When it was safe I peered in again and engine oil was splattered everywhere. The head gasket had gone and there was no way it could have been fixed without incurring a huge bill.
It was almost like the Punto knew it was its last trip.
Anyway, I then had to get a breakdown crew to tow me to the garage in order to complete the part exchange.
For someone who has not had the best of luck recently I have to say that was incredible. The car was brilliant for pottering around Sheffield and had really served me well.
It will never be forgotten.
Anyway my new car is boss. It's so good being able to drive above 60mph and not be genuinely scared of dying in a horrific metal mangle.
It looks cool too and its got a CD player.
Anyway, enough of that.
My steroid dose is now down to 5mg a day (remember it was 165mg to begin with).
That's the sort of dose normal people are given if they have inflammation problems.
I've been at that dose for over a week now and am currently experiencing what I hope is a flare.
The skin on my body is fine but as you can see here my face is really red.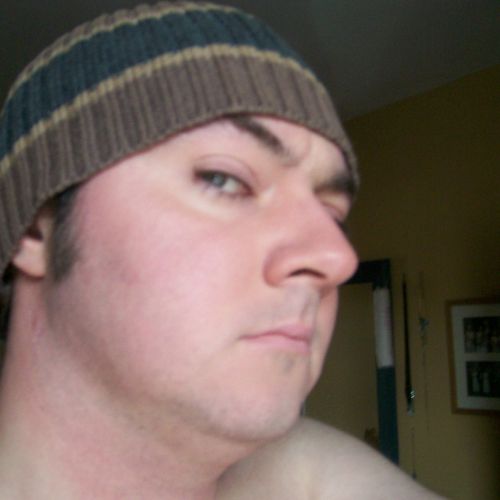 It's also still massive - why? Deflate, damn it! Come on!
Last night my stomach was unwell and I had the runs too. This was really worring because it could mean the graft versus host disease has spread to the stomach and gut.
Thankfully today it seems better so I'm less concerned.
My shins are quite itchy too.
There has been a flare at every steroid dose since 10mg and my skin has always come back under control.
I just hope it is the same this time.
On another note I found out today I didn't get that job.
If I was the editor it was exactly the same decision I would have made. I'm just unable to commit to the office hours.
I would have loved the job but this morning when I woke up shattered, bricking it and with a face hotter than my ex-Punto's head gasket, the last thing I would have wanted to do is drive to some conference or do a full day's work in an office environment.