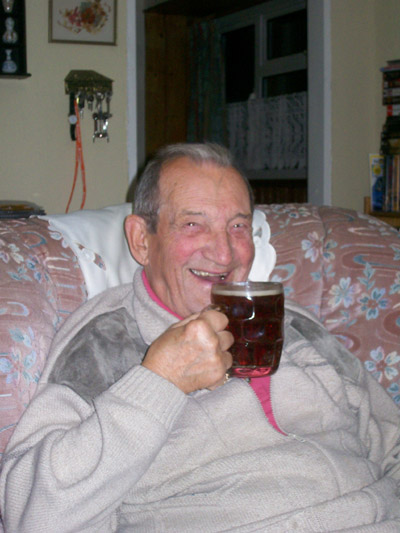 Last week when I realised I would need another three months of treatment it's fair to say it got me down a bit. The next phase is extremely complicated and not well-understood so I will explain further in the next post.
To boost my spirits I took a road trip to see more of the friends who have been so helpful to me throughout the last year. As I mentioned before, despite bloating my face and body, the steroids are actually making me feel pretty good, so I thought, 'Let's get away and do something positive'.
If you were wondering, the man in the picture is my good friend Horace Woollard - supping the elixir of life. He's 84 and needless to say is an absolute legend. Now you have the opportunity to meet Hoarce too, along with some of the other fantastic charcters I encountered on my A1 adventure down south.

When I started writing this blog I didn't really want to include posts like this because they are a little self-indulgent. However, I decided to write it because I wanted other people to see that I have had some good times and have learnt to really make the most of them when I am feeling well.
The road trip helped clear my head, give me some fresh perspectives and come back feeling upbeat with fresh ideas about how to think creatively around the problems Poppy and I are now undoubtedly saddled with.
So off I cruised, riding dirty in my battered - and suspiciously rattling - Fiat Punto.

1. Peterborough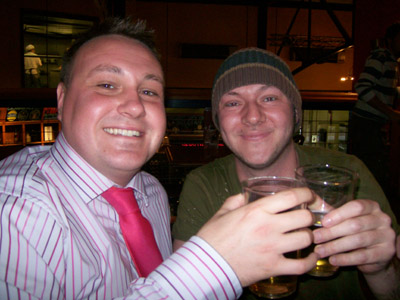 My first stop was Peterborough's premier Thai eatery for lunch courtesy of former Examiner reporter Andrew Jackson. The now deputy news editor at the Peterborough Evening News is one of the funniest individuals I've ever had the pleasure to work with and is the only person I know who refers to my ailment as 'disco dancer'. It was also pleasing to see his face is still substantially larger than mine.

2. Harlow, Essex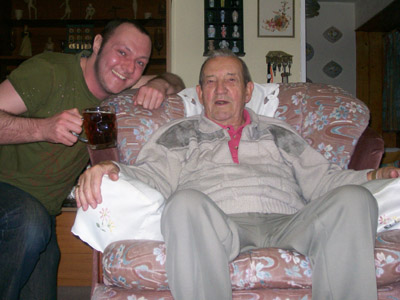 I did my post-graduate journalism course at Harlow College. I was there for six months in 2003 and took up lodgings with Horace. It was a pleasure living with him and we would often enjoy watching the football over a glass of his home-made plum wine.
Horace and I have kept in touch over the years with Christmas cards and the odd phone call but when he heard I was ill he has been excellent at keeping in touch with both me and my family.
I always said that if I was able to come down and see him I would. This sort of year has made me appreciate that too often people say they will do something like that and then never do.
I had a really good heart-to-heart with Horace. He is one of the wisest and most positive men I've ever met and he really helped me look at my latest problems with renewed energy.
He made me a cracking stew for tea and in return I took him some real ale. I should point out for legal reasons that in the picture that was my beer - Horace was just holding it for me!

3. London, South Bank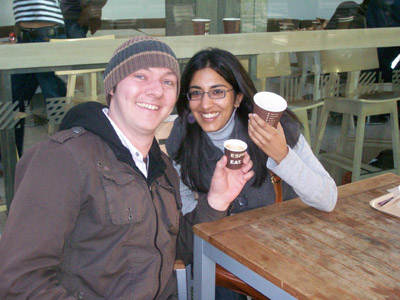 The next morning I parked the Punto and caught the train into London where I met my friend Amisha Koria. We studied physiology together at Liverpool University and we worked out we had not seen each other since my 21st birthday party.
We had a lot of fun strolling along the South Bank, catching up on all the lost years. While I was in hospital she sent me loads of fun stuff including balloons and a home made card which referred to an old joke about my slightly large hands. This picture is also a reference to that. The coffee cups are actually the same size.

4. Shaftsbury Avenue then onto Bethnal Green
Later on I met up with some of the friends I made while studying in Harlow. Many of them are now high-flyers in media or PR but still managed to come up and see me during these difficult times.
I first met up with Lucy Twitchin and Ashley Rogers and they told me tales of their glamorous lives in PR. Where Lucy works she told me they have a room that converts into a bar at certain times. The Huddersfield Examiner does not have such a room.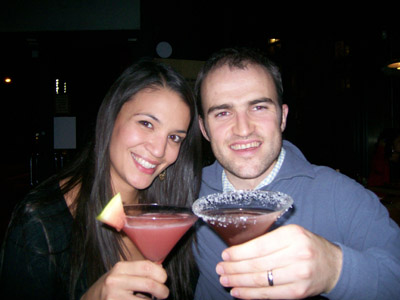 Then me and Ash headed off to meet his wife Laura near Brick Lane for one of the most delicious Chinese meals I have ever tasted. There were two signs it would be good. Firstly, it was packed, secondly, it was packed with Chinese people. The food was really different to Chinese food I have tried before but the flavours were fantastic.
Ashley is a lovely bloke who really helped put my problems in perspective when I was in my isolation chamber and was raging at how his fireplace had been installed incorrectly!

5. Camden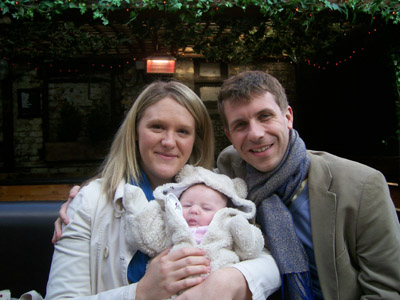 The next day I met another Examiner old boy Richard Porritt along with his girlfriend Ellen - who used to work for our arch-rivals the Halifax Courier - and their beautiful new baby Ruby.
Porritt is now doing some great work for the Press Association and Ellen is currently on maternity leave from the Evening Standard.
It was really good seeing them both and talking about some of the old times back up in West Yorkshire. I wondered how they were coping with such hectic careers, living in London and bringing up a little one. They just seemed really happy and I don't think Ruby cried once.
It is always difficult for me thinking about having children but this meeting made me even more determined that it is something I want to do and is still, hopefully, possible.

6. Leicester Square
More friends from university and more drinks. First I met up with Megs and her boyfriend Craig before they were headed off to see Mary Poppins. Then I rendezvoused with Ant, and his girlfriend Vicky, for a crazy Belgian meal which involved descending in a Fight Club style cage and being served by monks! Great food though.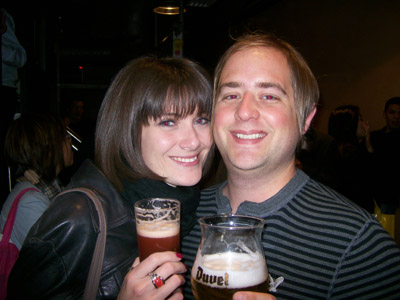 After that we hit some bars and ended up in some Indie club off Oxford Road. If any of my consultants are reading this please ignore the following sentence. The steroids seem to have restored my capacity to drink lots of beer again. I may resemble the Face of Bo, as my sister kindly suggested, but it's a small price to pay.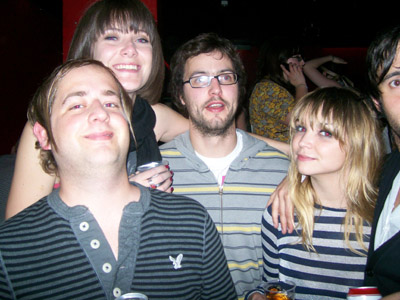 7. Tooting to Harlow to Northwood (Middlesex)
Got in to Ant and Vicky's flat around 3.30am Saturday morning, alarm went off at 8.30am and I felt surprisingly fresh. Caught the train out to Harlow, picked up the hot wheels, and drove round to Northwood for Caroline and James' wedding. Caroline, I should point out, is Poppy's cousin.
Here is a picture of some of Poppy's family who attended the wedding. From left to right, Rob, Poppy, their mum Pat, Holly and husband Paul.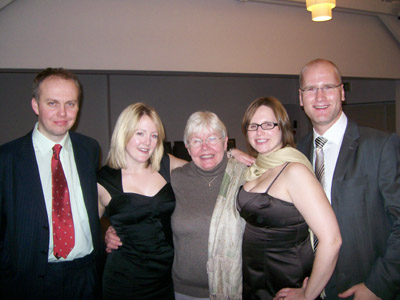 8. Northwood to Slough
The reception was held at a beautiful location and it's fair to say it was a brilliant night. The newly weds, as you can see from this picture, looked fantastic and all the guests clearly had a great time.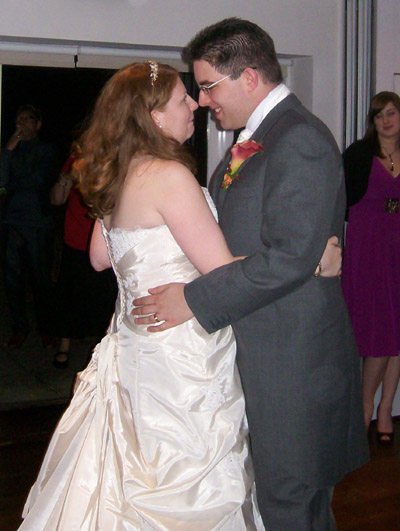 Pops and I were seated at a table with lots of fun people. To begin with it was good thinking that none of them have seen me before so I could have a night of just being a normal guy again.
But then - what are the chances?! A 26-year-old girl next to me mentioned that she had been fighting thoracic cancer for the last year and was only just starting to return to normal life! Seriously, what are the chances? Well that was it, the cancer conversation floodgates opened. I can only apologise to everyone else on the table who had to listen to our hilarious anecdotes.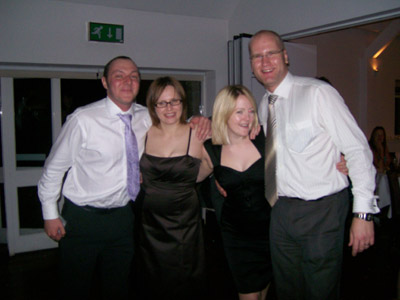 After dinner it was superb being able to have a right good old dance again. The Arctic Monkeys once sang: "I bet you look good on the dance floor." As you can see here, I don't and never have, but on Saturday I didn't care. I was twisting, air-punching, body-popping, ass-shaking and conga-ing like a demon. It was so much fun.
It's only when you've had to seriously face never getting up to those sort of capers again that you really, really, appreciate them when you are given another opportunity.
Thanks again to Caroline, James and their families for inviting to me to such a good do.

9. Slough to Sheffield
I arrived home tired but feeling much better in myself. Got the news through that I would be starting treatment later that week so just pleased to be cracking on with it. Now I am even more determined to just get through this last phase of treatment.