This time I have some really sad news.
Poppy has called off the wedding and decided to separate.
I have never been so sad in all my life.
I am utterly heartbroken.
But the most diffcult thing is that I don't blame her.
There was no big argument; I think there was just the slow realisation of what getting married to me means.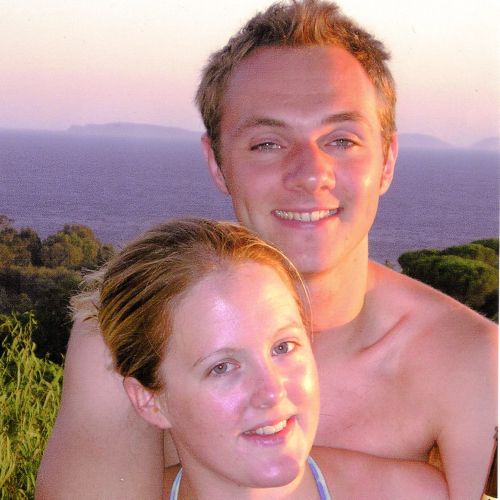 Me and Pops before the illness. This is what I used to look like

She also has a new job up in Hartlepool and all these factors together made her think she could make a clean break.
As for me I already miss her so much and my life is in tatters.
Poppy was my best friend and soul mate.
I'd been with her for over 7 years and before all this started we had shared some incredible times and been to some amazing places.
If you are reading this I want you to know how much you meant to me and that I will never forget you.
She told me that basically she didn't feel the same way about me any more.
That doesn't necessarily mean my illness is directly to bame but its changed how I look, stopped me being able to travel like we used to, stopped me becoming who I wanted to be professionally. Every day someone has to help me put creams on my back to control graft versus host disease, my skin is flaking and sore.
I feel revolting.
When she said yes to my proposal I could see in her eyes that she meant it and really wanted to give it a go.
But something has changed in the last month.
Part of me feels less guilty now knowing that she is free; free from me, free from this disease and able to be exactly who she wants to be.
She is a wonderful person who has provided the most loyal support to me throughout the last year and a half.
She is about to start a new job too and I think, on some level, she thought she had a way out.
I genuinely wish her all the best and whoever she does eventually marry will be a very lucky man indeed.
As for me I have no idea what to do.
The number of cruel circumstances stacked against me just seem astonishing. I hope you agree from reading this blog I am not prone to self pity but I really do not know what I have done to deserve all this.
Poppy was the bit of hope I had built my crumbling existence on.
I promised myself that if I survived my bone marrow transplant I would propose to her. Thinking of how much fun our wedding would be was one of the main focal points I used to survive.
She also said she was happy to sign up to IVF treatment and that if I did die it would be great having a child that reminded her of me.
Just by saying that helped me more than she will ever know.
If we had split up 4 years ago it would have been difficult but ultimately fine. I would have enjoyed going out and being single again.
Graft versus host disease means I have less energy, the steroids affect parts of the body in an unpleasant way, I don't look right and as I mentioned in my previous post (before this emotional turmoil) my stomach has started to play up again. This means I feel sick a lot of the time and my appetite has gone.
I've temporarily moved back in with my parents and they have been great.
But I'm 26 and don't know what to do next. Before I would have happily moved into a shared house or got a flat on my own.
Unfortunately my time in isolation has fundamentally scarred me.
I can no longer bear being on my own for long periods of time. I really need company and the comfort of other human beings.
No one's going to marry me now so I somehow need to address the fact that I'm never going to have a family or children of my own.
Before anyone posts any comments along the lines of "Don't worry, it will be alright," please consider the reality of the situation.
I think I have really made the best of the hand I have been dealt but now I can genuinely see no way out.
Good points
1.I have got the most loving family and friends you could wish for. They have all been so supportive.
2. I have got a job I like and my colleagues at the Huddersfield Examiner have again been brilliant.

Bad points
1. Can't have children.
2. Leukaemia might be coming back (results will probably be OK from this week's test).
3. Graft versus host disease is causing all sort of problems. My skin is red and sore in places, it's flaking off at the back of my neck, energy levels are poor so I can't even go out and get drunk, it might be spreading to my stomach which means even more steroids.
4. My face is bloated and I look ugly. Sometimes I feel like I've been sunburnt.
5. My hair is really strange.
6. I can't exercise or get in shape because the steroids have weakened my legs.
7. Very unlikely that I will ever get better.
8. Even if I don't get a nasty infection and die my life expectancy has been slashed.
9. I will need cataract surgery at some point this year.
10.I will develop problems with my gums because of the radiotherapy. This also means I am prone to secondary cancers too.
11. My ambition was to be a national reporter but I have not got the energy or the abilty to move to London and work shifts.
12. I'm stuck in a job with a modest wage so how can I ever set up home on my own?
13. Need to sort out the flat and work out how we are going to divide up all the stuff.
14. Don't have enough energy to up and leave and just do something completely different.
I'm lost, deeply upset and have no idea what to do.