I think this post illustrates just what a knife edge people with chronic Graft versus Host Disease - and who are trying to come off their steroids - are really on.
This is a video of me on 10mg a day. If it wasn't for the sted face I would happily stick now.

However, after two days of dropping down to 7.5mg this happened to my back...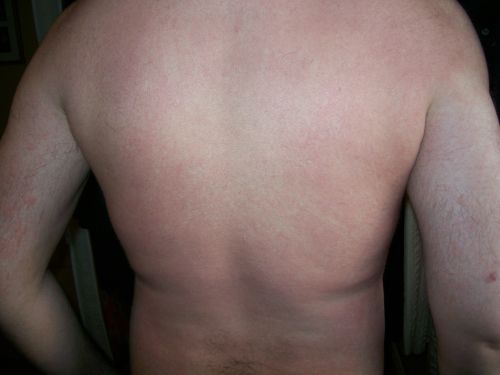 Yikes!
It was really bad. My skin felt hot all the time and it was starting to get itchy. I hammered it with steroid creams and moisturisers but it didn't seem to be shifting.
I even used "Udderly Smooth" which turns out is actually a real product! Thanks for that suggestion.
The flare also seemed to make me feel really tired.
I've always been able to keep my spirits up but when this happened I just felt crushed. I thought we had come as far as possible and I would have to accept looking like this for the rest of my life.
It wouldn't be so bad but every time I see myself it's a reminder of everything that's happened to me and a reminder that I am still ill.
Mercifully two days later it was better.
It was completely back to normal.
This condition is so strange. Now I just want to try 5mg and hope for the best.