We have been through quite a lot together now but I imagine for many of you this post will make for uncomfortable reading.

We have journeyed through the ups and downs of leukaemia, its treatments, living and dying.

There have been a few laughs in between the infertility, my fiancee leaving me, my skin crumbling off and the recent death sentence.

Lavish award ceremonies, outrageous media tarting and all of us being involved in a massive campaign that will hopefully benefit thousands of people around the world for years to come.

But a time comes when you have to be honest with yourself.

After last night's shenanigans it's time to sacrifice a bit more of my independence and move back in with my parents.
Time to catch up.

We are never going to know exactly but it looks like I am reacting very badly to the new drug Dasatinib.

Thanks to everyone who posted their experiences about this medicine.

I started taking these new pills on Friday and by Saturday was having piercing headaches.

Not only that but I vomited twice on consecutive days.

Obviously, having had the pleasure of being sick on quite a number of occasions over the last 18 months, this wouldn't normally bother me too much.

But I have never experienced anything like it.

The pressure and velocity was such that it felt like my eye balls were going to burst out of my head.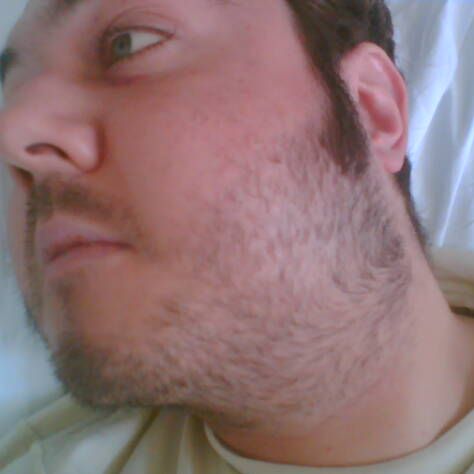 All over my eyelids were spots of blood caused by minor internal bleeding.

The worst thing was that it gave me what looked like two black-eyes.

They really hurt, were starting to swell up, and I was struggling to see out of them for days.

Friends came and stayed but it was becoming increasingly difficult to ignore.

Last night my parents looked after me in Sheffield.

The headache was getting out of control and, determined to avoid a stay in hospital, I suggested we try out of hours doctors service.

The first doctor rolls up, now whether this is due to a language barrier I don't know, but I asked him if he was prescribing pain relief. He said yes and injected it into my arm.
I should add that he seemed rather keen to make the injection into my buttocks. I challenged this and the arm was then deemed acceptable.

Turns out though he gave me a sedative leading me to wake up in the middle of the night, ranting, babbling and devouring two bowls of fruit.

That, it turns out, is how mental I get.

The headache returned, and having had these sorts of extreme pains on the ward, I know the only answer is something along the lines of morphine.

The second doctor eventually appears, prescribes the drug, but there is nowhere to collect it until the pharmacies open about three hours later.

Great out of care service guys.

So despite everything my dad ends up driving me into the Royal Hallamshire Hospital again for treatment.

Unsurprisingly, the morphine always slips down quite well and within about 20 minutes I was feeling a lot better.

But my head was now swelling up on the underside and around the jaw.

Apparently this could be caused by a small blockage meaning blood is not returning correctly.

As you can see from the picture, I'm run down, exhausted, cannot stop coughing and have a massively swollen head.

Here is a bit of irony for you though, one doctor suggested treating this new facial swelling with steroids!

Seriously, he described it as maybe helping to clear the blockage and returning things to normal.

The nurses were so worried this morning that they were concerned I wasn't going to make it until next week.

After this evening - apart from the massively irritating cough and vanity issues - I reckon I've got a bit more time left than that.

I'm hoping friends and family will break up visits and come throughout the week.

I have also got some excellent palliative care medicines at my disposal too which means there should be no more repeat performances of last night.