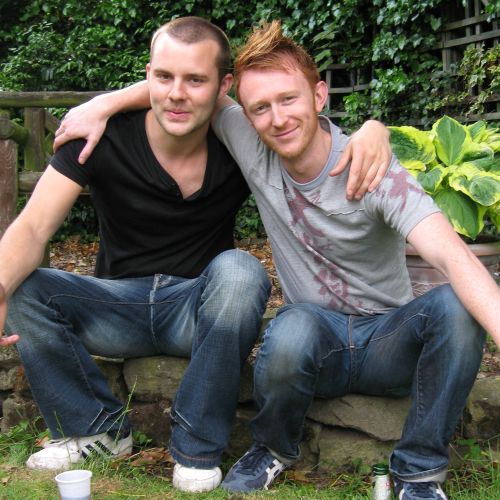 Ben Hunter and Olie D'Albertanson
Every day is getting harder now.

I'm going to need some sort of hospital attention either today or tomorrow.

My eyes are struggling to read what I'm writing, the exhaustion brought on by the anaemia runs so deep and is seemingly insurmountable and finally I have started having, dull drawn-out headaches.

The last problem could be due to a number of reasons but I fear it is linked to the new drug Dasatinib which I started taking over the weekend.

My hands are shaking a little bit as I sip my glass of water and dread the impending number of tablets I've got to get into me.
My resting heart rate, writing this in bed, is over 115 beats a minute as it struggles to push the limited blood and oxygen supply around my body.

The good news is that on Friday my consultant prescribed some new antibiotics which have really helped clear my chest.

My croaky voice, you may have heard in the previous post, looks like it is improving.

Let's be honest - this is a dreadful, maybe even tragic, situation that I find myself in.

But every day checking the comments that are now flooding in from all over the world is such a support.

I am sorry that I am incapable of replying to you all but know that all your voices, often of complete strangers, wishing me, my family and friends well, is a mountain of comfort.

It's great being part of this global community and I suppose in many ways we are all in this together now. Sorry about that!

Again thank you to you all.
Have a look at what Ben and Olie are planning too.
Ben Hunter
Ben speaks: "Please consider sponsoring my Mont Blanc my climb to raise money for The Anthony Nolan Trust. The target is £3,000 but it would be great if we could get more. None of the money raised will go towards the cost of the trip, all will go to the charity.

I originally thought this up to cheer AD up during some heavy times, but now it is a thank you to the Anthony Nolan Trust, who's lifesaving work has allowed AD to have the time to achieve so much.


Since 1974 we have helped to give over 5,800 children and adults a new chance of life.
The Anthony Nolan Trust
I have done long treks before but this will be my first attempt at mountaineering.
At 4,808m (nearly 16'000ft) Mont Blanc is the highest mountain in Europe and the 11th Highest in the world. I will be using a professional mountain guide and climbing in a team of 3-6 people and will be doing the climb in June 2009 (training started a few months ago.)
The plan is to drive my folk's camper van down to Chamonix to embark on a week of intensive training and acclimatisation, then when weather conditions are right, set off for the summit.
Wish me luck!"
Click here to support Ben's quest.

Olie speaks: "Hi everyone,
I have secured us places to run the London half marathon on October 5th for Leukaemia Research.
I want to try and raise as much money as we can for this to keep AD's campaign up and running.
This is the just giving site I have set up - if we just use this one page we can collect all the money in one go. Please spread the word to as many friends and colleagues as possible.
Click below to sponsor Olie.
http://www.justgiving.com/baldysblog
Thanks lads.