Happy New Year to everyone and thank you for all your lovely comments.
After a wonderful Christmas and New Year it's sadly back to business and in the next couple of weeks we should know how effective the photopheresis at Rotherham has been in treating the chronic Graft versus Host Disease (cGvHD).
The steroid taper is rapidly approaching crunch time. If the treatment hasn't been successful the unpleasant problems associated with cGvHD will reappear.
These could include:
â—? Incredibly dry skin
â—? Impaired joint mobility
â—? Unbearable itchiness
The bad news is that some of these symptoms, albeit in a very mild form, have started to emerge already.
I'm convinced that cGvHD is something I will have to live with for the rest of my life.
The question is just how debilitating it will be.
The sad thing about reducing the steroid dose is that I'm no longer bristling with energy but I have still got an oversized head.
The side effects do reverse once you're off the drugs but why couldn't I keep the va va voom and ditch the pumpkin with a neck? My future father in law remarked over Christmas that I resembled a hamster! And he's not wrong. It's like having two golf balls shoved up in my cheeks.
It is also worth being aware of the irony that although the cGvHD could go onto ruin my life, it's probably saved my life by fighting off any remaining leukaemia.
I wanted to write an update about where I am at with the 'sted' reduction.
This graph shows how the steroid taper is working. To begin with the dose was dropped by about 10mg a week. Now I'm down to 25mg a day and the next reduction will be in steps of 5mg.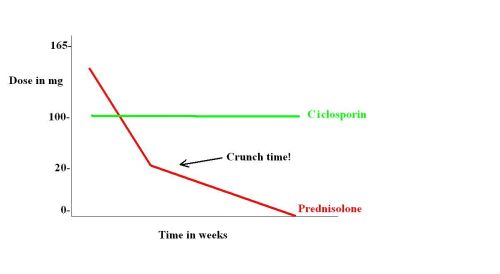 However, not only do I need to be weaned of those drugs but also the other immunosuppressant I take which is called ciclosporin.
In an ideal world I will be able to come off the steroids then begin a taper for the ciclosporin.

Once I'm off both drugs - and no longer have any cGvHD because it's been cured by the photopheresis - my new immune system will be able to function and I will be able to return to my normal life.
Unfortunately I just don't believe that's going to happen.
I've now met people like me whose lives involve a never ending cycle of cGvHD flaring up, which is brought under control with a high dose of steroids, which in turn brings with it the high infection risk - and the huge face.
Over Christmas I was fortunate enough to avoid any major infections but I still feel under the weather and there are a few problems with my chest.
The doctors say it sounds clear and I'm taking both antibiotics and antivirals so I should be OK but I'm struggling with my energy levels.
It's really hard to know if this is due to an infection, whether it's my body just recovering from the pre-Christmas infection or if it's the chemical come down associated with coming off the steds.
It is also terrifying reading about all these bugs, like norovirus, doing the rounds. I'm really grateful that I can stay in my flat and work on the Examiner's website from home.
Do you remember a comedy on BBC2 called Game On? I feel like the dude with the surfboard. Never mind!
I have no idea what 2008 holds but with a wedding to organise for August there is certainly plenty to keep me distracted.