The equivalent of around three bags of blood has gone missing from my body.
Needless to say this came as a bit of a shock yesterday.
Since being discharged from hospital on Monday with the viral chest infection I've been feeling a little drained and run down.
I also found it hard walking to the shops without getting out of breath.
But I just assumed all this was down to my body slowly recovering.
On Thursday I came back over to Rotherham hospital to continue with the Photopheresis treatment for Graft versus Host Disease.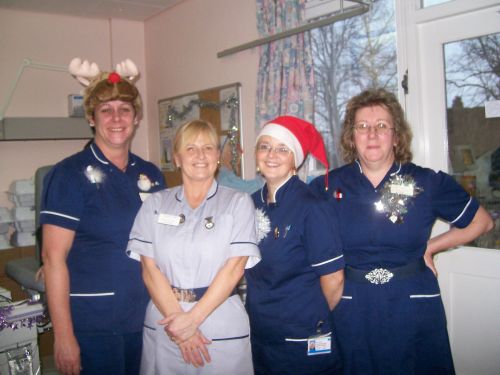 Merry Christmas from the photopherisis team!
Blood samples were taken but the levels of my haemoglobin - the substance which carries oxygen around the body - came back alarmingly low.
And it was all going so well too!
Once again I was being taken really good care of by the staff in their festive attire. Tea, biscuits - even a fresh fruit salad with cream was knocked up at one point. Salad days indeed!
But then those numbers came back.
Any leukaemia patient will tell you that they become obsessed with their 'counts' - the measure of how well their bone marrow is performing.
I described all this in previous posts but if I am to be grateful for anything it's that post transplant my new bone marrow has been producing healthy levels of red blood cells (which contain haemoglobin), platelets (which stop you bleeding to death) and white cells.
It's one aspect of my treatment that has not been a problem.
Normal levels of haemoglobin in healthy males range between 13 and 18 (grammes per 100 millilitres). Mine had been stable at around 12 for weeks so I've not really had to think about it.
But from Monday to Thursday it had dropped from close to 12 to just over 8.
That's a lot in a very short space of time.
Just as a rough guide, a hospital bag of blood (around 300mls) will boost your haemoglobin count by one - so you can imagine how difficult trying to get by with the best part of a litre missing can become.
As I've said before (God, I'm tedious) my background is physiology and I know that even if this drop was attributed to the infection it's just too much to lose over that time period.
Frankly, I was cacking it.
So what else could have caused it?
The answer, it seems, lies with the Ribavirin therapy I received to treat the chest infection. One of the side-effects listed for some patients is haemolysis - the breaking down of red blood cells.
When this was explained to me I did feel a little more at ease because at least there seemed to be a logical reason behind what was happening.
I could also understand that a couple of bags of blood would be a good solution and should see me right for Christmas.
But now a bigger problem emerged - when was I going to pick up my pork pies?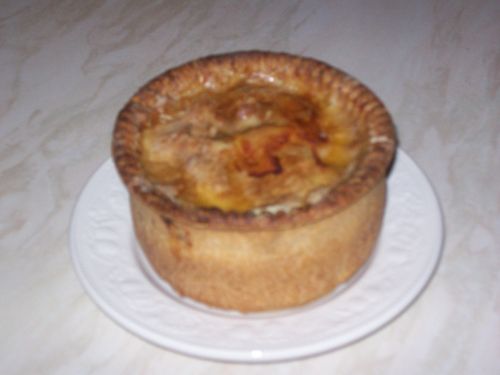 The splendid stand-pie from Shepley butcher Gordon Dyson
It's so difficult sometimes living your life from week to week, never knowing what lurks around the corner and being unable to make any firm plans.
I have tried to embrace this new existence so no longer get annoyed when the plans you do make have to go out the window yet again.
Immediately when faced with these snags my brain now turns to how they can be worked around.
For example, today I had to finish off some Christmas shopping in Sheffield and then head over to Gordon Dyson's butchers in Shepley, Huddersfield, to pick up some magnificent pork pies. They are amazing if you haven't tried them.
The original plan was to have the photopheresis and then complete all those tasks later in the afternoon. Get home and pick up Poppy from her work's do - also in Rotherham.
The counts were too low for photopheresis treatment this morning so kindly the staff at Rotherham ordered me up two bags of blood - which I know from previous experience takes quite a few hours.
This gave me enough time to shop and then return to Rotherham for the transfusions.
Each bag takes around two hours so I should be done by 7pm. I decided writing this would help pass some time while my new A+ blood drips slowly into me.
The transfusions should boost my energy levels and make me feel tons better. My counts should also improve so that I can come in to complete the second photopheresis treatment in the morning.
Please nothing else before Christmas!