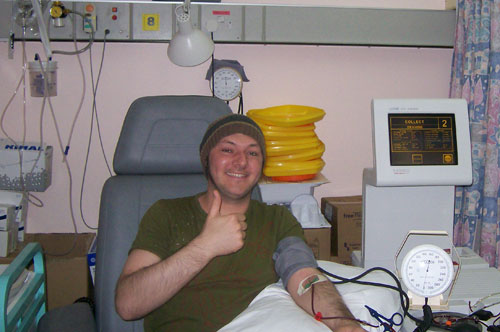 One of the hardest aspects - after having hopefully overcome two-types of leukaemia - is explaining to people that this post-transplant complication is potentially just as life-threatening.
My new bone marrow has engrafted successfully. It is making new red blood cells, platelets and white blood cells - the cells that help fight off infection. Unfortunately, these new white blood cells are starting to attack my skin. If left alone they could attack other organs of the body including the liver and lungs.
Chronic Graft versus Host Disease (cGvHD) leads to the death of a significant number of transplant patients every year. If it can't be cured then the sufferer can be left with seriously debilitating long-term consequences.
The good news is there are a number of treatments now available. Many of them are cutting edge and more research is required to understand exactly how they work. The treatment I have just started also frankly sounds mental! It involves a kind of dialysis machine, chemicals, UV light and Rotherham.
I hope this post will explain in a bit more detail the nature of cGvHD and the treatment that offers me a 50% chance of long-term cure. On a personal note, I have to say I am worried about the future. I've just got this really bad feeling that I'm not going to fully get over this.
The full title of this entry should really be treating chronic Graft versus Host Disease (cGvHD) with Extracorporeal Photopheresis (ECP) - a headline to make even the hardiest of sub-editor clutch their stomach and wince in abject pain.
I think the best way to tackle all this is to look at all the different aspects individually.
What causes cGvHD and why does it happen?
Your immune system is designed to recognise anything that is foreign and fight it off. When I had my bone marrow transplant new cells were put into my blood. To ensure my body accepted these new cells I was prescribed a high dose of immunosuppressant drugs to stop my body attacking these new cells.
The idea was as time progresses your body learns to accept these new cells and you can taper down the dose of drugs. Frustratingly we were about two weeks away from being off the medication all together when the cGvHD flared-up.
Between 30 to 40% of transplant patients develop cGvHD and it remains one of the major challenges in the field.
It is described as being limited or extensive. If it is extensive then it can involve many organs in the body including the liver, bowels, gut and lungs. This is much harder to treat. My cGvHD, so far, appears to be limited to the skin. Limited cGvHD seems to respond better to the ECP treatment.
Another strange aspect to grapple with is that that the reaction between the newly engrafted cells and me, the host, is probably what is keeping my leukaemia at bay - or has helped see it off for good. I have a further bone marrow sample in November and because of all this remain optimistic that there should be no trace.
Why are my new cells and body reacting?
Every cell in the body wears a kind of uniform to let the immune system know what it is and what it should be doing. Think of it like a kind of hat on its surface. These are called antigens.
Even though on paper my donor was a 100% match, that is only ever as good as the technology currently available. If you were able to take a deeper look you would see that there are very slight mismatches between the make-up of my antigens and the donor's. This means there is always a risk of long-term problems.
My German donor was what is called a matched-unrelated donor but even siblings are always going to be slightly mismatched. The only perfect matches can be found in identical twins.
Conditioning
Another fascinating part of this is that the conditioning process I had to go through seems to contribute too. If you recall, in order to clear away my defective bone marrow I had to have intense chemotherapy and total body irradiation.
Research suggests that these processes can lead to two undesirable side-effects.
1. It increases the number of antigens on my body's cells which will lead to a greater immune response from the newly made white blood cells.
2. The processes increase inflammatory factors in my body which encourage the new white cells to attack me.

First line of treatment - steroids.
So what can be done to stop these new white blood cells giving me gip? The answer is a high-dose of steroid drugs and bumping-up the dose of immunosuppressive drugs again.
The steroids work by inhibiting the action of the new white blood cells. This stops them interacting with and damaging my body. I responded well to this treatment and incredibly my skin was entirely restored within 48 hours.
What would happen if I stopped taking the steroids now?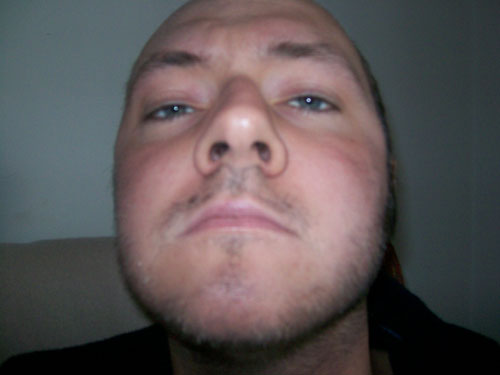 Click on Fat Face to see Adrian morph like a power ranger into Flaky Face (or what might happen when Adrian comes off the steds)
So why not stay on steroids for the rest of your life?
Apart from the bloating there are serious long-term problems with steroid treatment. The most dangerous aspect is that they again are stopping your immune system from working properly. This means you are at a high-risk of infection. Anyone with chicken pox, or a similarly unpleasant virus, I have to avoid literally like the plague. In fact, although cGvHD can attack other organs causing death, it is actually infection that is most likely to lead to mortality in cGvHD patients.
Other long-term problems associated with steroids include:
-Osteoperosis
-Diabetes
-Mood swings
-Adrenal problems
-They can send you nuts!
How can the underlying problem be treated so that steroids can be stopped?
This is where Extracorporeal Photophoresis (ECP) comes in. In a nut shell the idea behind this treatment is that it 'turns down' the intensity of your new immune system and trains it not to attack your own body. Once this starts happening you can slowly begin to taper steroid and immunosuppressive therapy.
By the way, coming off steroids 'cold-turkey' is not advisable.
I have to say I have been amazed at what ECP entails. Extracorporeal means outside the body and photo means light. ECP therefore means light-activated treatment taking place outside the body.
The first thing to say is, despite being pretty unlucky for the last year, I have been fortunate in that Rotherham is only one of three centres that offers this treatment in the UK. Some patients have to travel down from Scotland and stop over to have their therapy.
What is ECP?
I will now be going over to Rotherham General Hospital for two three-hourly sessions, for two consecutive days, every other week. This will initially last for three months until we know whether or not I am responding.
-A reasonably large needle is inserted into my arm (after being numbed) and I am connected to the photophoresis machine.
-About 400mls of blood is taken out of my body.
-The machine spins this blood in a special bowl. Red blood cells are heavier than white blood cells so the two can be separated.
-The white blood cells are then shipped into a special chamber where they are mixed with a chemical called Uvadex.
-Precisely how Uvadex works is not known but when it is exposed to UV light it binds to DNA in the white blood cells.
-The white blood cell layer, called a Buffy Coat, then passes over what looks like a little sun bed.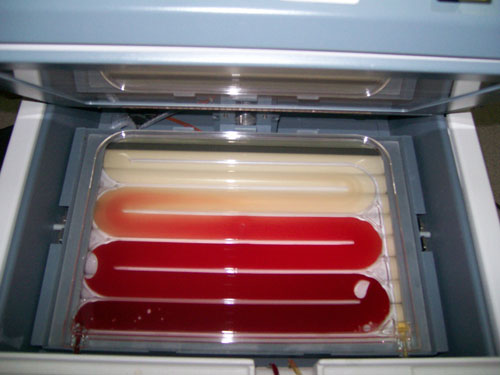 -The UV light then initiates the reaction between Uvadex and the DNA leading to a loss of cell viability and eventually cell death over several days.
-My red blood cells and damaged white blood cells are then returned to my body.
This all sounds a bit insane but I have to say the quality of care I have received so far has been, just like at the Hallamshire in Sheffield, absolutely excellent. The procedure is totally painless and the sisters in the department make you feel utterly at ease.
I know what you're thinking now - how the bloody hell does all this treat cGvHD?
Well the honest answer is that scientists are not 100% sure. The technique was originally shown to be effective in the treatment of a type of lymphoma and subsequently other skin disorders involving a misbehaving immune system.
It was tried for patients suffering from cGvHD and seemed to work in a significant number of cases. As I said before, it is thought it could offer me a 50% chance of full recovery. However, the precise nature of this treatment remains unclear.
Research continues and the Rotherham hospital's website offers some excellent information and background into the field. Teams involved with the hospital are making significant advances into understanding the whole process.
http://www.rotherhamhospital.trent.nhs.uk/DepartmentsServices/Photopheresis/PhotopheresisGvHD.asp

Their site includes a proposed model for how this treatment treats cGvHD which I thought would be good to include here.
1. Chemotherapy and Radiotherapy (from conditioning) has caused my tissue to make more antigens on their surface.
2. They also lead to more inflammatory factors being present in my body, exacerbating the problem.
3. The new white blood cells being made by my new marrow don't recognise these antigens and decide to attack.
4. They then create their own inflammatory products which perpetuates the problem.
5. There is evidence that when the white blood cells are returned they increase anti-inflammatory factors and decrease pro-inflammatory factors.
6. It also seems that they can help activate special regulatory cells that help 'train' the immune system to be more tolerant.

As I said earlier it's unfortunate this is happening to me but I'm trying to keep positive. The steroids, generally, are giving me plenty of energy so I'm trying to make the most of life while I'm feeling good. This includes trying to do a bit more work from home for the Examiner, light to medium exercise and generally enjoying myself.
I have had two sessions at Rotherham and the next pair is on November 6 and 7. I know that until at least the following sessions there will be no point in attempting to reduce the steroid dose. So, barring infection or other unforeseen complications, I should be OK for a while.
However, I am apprehensive that when the drugs are reduced problems will emerge. Like I've said so many times before all I want is to get over this and return to normal life. Although there are other regimes doctors can try, I can't help but feel apprehensive that cGvHD will be something I have to learn to live with and manage, rather than be rid of all together. It could mean a lifetime - however long that is - of stiff joints, painful skin and general discomfort.
I hope I'm wrong.