The wait goes on. I've still not heard anything so continue to wait nervously.
I'm not sleeping brilliantly but apart from that I'm fine.
The good news is that my Hickman Line, that tube running out of my chest, has been removed from my body. It's literally been a part of me since December and has undoubtedly been a big part of my treatment.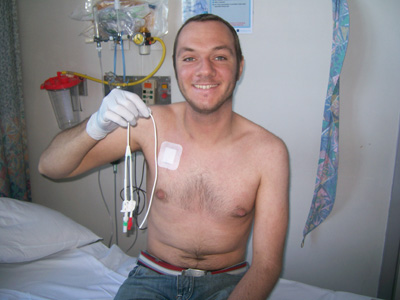 Every time blood needed to be taken, or chemicals administered - which was most of the time - the Hickman line, named Fred by my aunt, has made it all possible without the use of needles.

Since emerging from isolation at the end of June I have had to go back into hospital twice with serious, but thankfully quite manageable infections. In both cases bacteria has somehow got into the line and caused me to become ill. It's scary how poorly you get in a very short space of time.
In both incidents I went from being well to being readmitted within two hours. Powerful antibiotics quickly remedied the situation on both occasions.
It's strange not having it dangling out of my torso. You do get used to them quite quickly but I hope I don't need another one inserted in the future.
How do they get it out? Simple, they just pull it out! It sounds horrific and now being the veteran of countless 'undesirable' hospital procedures I have to admit feared the worst.
But for anyone who is wondering what it is like I can report it's refreshingly painless. All the doctor did was inject some anaesthetic where it emerges from the skin, wrap it around his fingers and pull.
Some patients take their line home as a memento - I was not that bothered.