So it turns out the cold was a little bit more serious than first thought.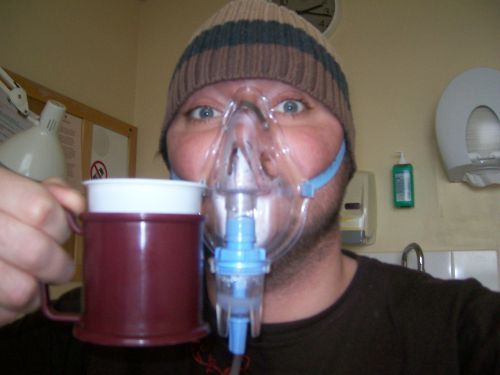 Here I am again, having a cup of tea - and some more treatment - back in the Royal Hallamshire hospital.
My cold-like symptoms are actually being caused by a virus called Respiratory Syncytial Virus (RSV). In most people it just gives them a nasty cough and cold.
Their immune systems will usually take care of it unassisted within a few weeks.
But for people like me, who are pumped up on steroids along with other immunosuppressants, the situation can be much more serious. If the infection takes hold and spreads it can cause pneumonia or bronchiolitis.
One of the doctors told me that in these cases mortality can be as high as 50% - crumbs!
I'm sure I'm going to be OK though - only 50%? I ridicule those odds.
When I reported my cold last week to the staff on P3 day ward they go through the following tests:
1. Listen to the lungs and chest.
2. X-ray my chest to see if there is any sign of infection.
3. Get me to produce a sputum (phlegm) sample.
INTERESTING POINT: When I was in hospital for my main stay I asked the nurses whether it was patient urine or faeces that they hated dealing with most and they nearly all said it was sputum they disliked above all else.
4. An NPA (Nasal Pharyngeal Aspirate) - this is horrible. They shove a tube right up, and I mean right up, the back of your nose and suck. This hunts for any viruses.
The sputum and contents from the NPA are sent off to the labs. Samples are taken and an attempt is made to grow, or culture, any bacteria or viruses that might be living there, and identify them.
On Saturday evening I got a call from the P3 team that virologists had detected RSV.
I have to say at this point a big thank you to everyone working behind the scenes in these labs. I know a few of you have been following the blog and just wanted to say that you have all helped save my life - along with hundreds of other patients - several times over this year.
Your work has meant doctors have been able to administer the correct antibiotics or in this case antiviral treatments as quickly as possible, which as you know is so crucial in keeping people like me alive.
Antibiotics are only effective against bacterial infections.
Viruses are generally a little trickier hence why there is no cure for the common cold.
But, luckily for me, RSV can be treated by inhaling an antiviral agent called Ribavirin.

Starting first treatment. Attached to SPAG - small particle aerosol generator
Every other day I'm also having infusions of a substance called Immune Globulin which is supposed to boost my compromised immunity.
The reason I am so confident of getting over this little problem is because I still feel well, it's been caught early and I feel like I'm improving already.
My symptoms, as I described last time, involved feeling a bit run down coupled with an irritating cough. The only weird thing was that sometimes when I inhaled I could hear my chest crackling. It sounded a bit like a frog's croak.
Other than that I've had no fevers so the infection, thankfully, looks limited.
If people are ill around you at the moment, with similar symptoms to these, it is quite likely their cold is being caused by RSV. It's doing the rounds and for most of you it will clear up in a couple of weeks.
The only downside to this latest - but almost inevitable - setback is it's just really inconvenient.
Work was going great from home and I was doing gentle exercise again. I was just trying to build up some sort of routine in an otherwise unpredictable life.
My colleagues have been great and will pick up my work again but I feel bad because it just means they have more work to do in already busy days.
The problem for me is that I need to have treatments at 8am, 2pm and 8pm each day for about another five days.
Each one lasts for two hours with a break in between. People shouldn't really come in the room while the Ribavirin is pumping out - it's not good for pregnant women or healthy lungs - and because I've got an infectious disease I shouldn't really be leaving my room and putting other patients at risk.
That said, there's a couple of patients on here with TB who apparently keep popping out their rooms which if you ever needed an incentive not to leave your room that's as good as any.
So effectively I'm stuck here with no visitors and, as you can see, the mask makes phone calls a little tricky too.
Yesterday I pleaded with the doctors to let me go home at 10pm to which they agreed as long as I was feeling OK and my oxygen levels remained high.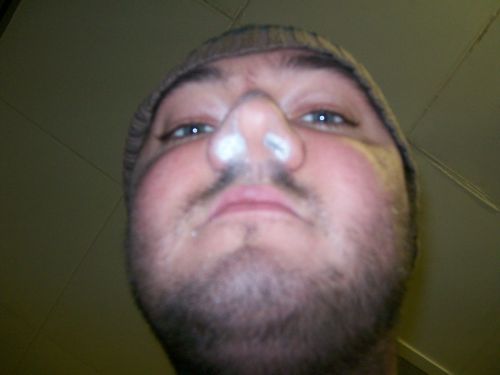 Don't show the News of The World. Ribavirin up nostrils after two hours.
It's not ideal but I found the break really helped.
I had started to feel a bit sick, the first time for months, and all the difficult emotions of being in isolation started to creep back into my mind.
It's just the little things like having to eat hospital food when they bring it to you, the sweaty condensation that drips from the blue covers that keep it warm, nurses walking in when you're taking a leak, the needle in your arm coming loose and catching on your clothes, trying to negotiate your way around the room when connected to a drip stand- just being lonely and having nothing to do.
I started thinking about sadder times and lost friends. It was as though the balloon of the last three steroid-fuelled months had well and truly burst into deflated strips of dishevelled and broken colours.
Going home was the best thing for me. It allowed me to snap out of this mood and buck my ideas up.
Today I've come back in armed with laptop, books, a few arm weights and a list of jobs to do.
Thank God I've got this blog to write too!