Andy Sage was one of the funniest and most courageous men I've ever had the privilege to know.
The 42-year-old Sheffield brickie was my best friend on ward P3 throughout the 10 months of my treatment.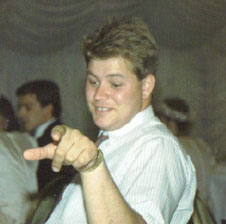 He was one of those human beings who would light up a room and could get even the most miserable sods in there laughing. He was a massive character in every sense of the word measuring well-over six foot and weighing in, I'm sure he wouldn't mind me saying, at just a little over rotund.
Such was the size, strength and heart of the man he always, for me, carried an aura of invincibility.
When you're in a terrible situation, like anyone undergoing intensive treatment for cancer, you need people to help keep your spirits up and Andy did that in spades. His banter was incredible and wit as quick as any stand-up comedian.

It was obvious how much the staff on the ward liked him too - despite him always trying to wind them up and spend as little time on the ward as possible.

"If you were proper nurses, like them in Casualty," he'd say, "We'd be fit and out of here in two weeks."
His positive attitude was incredible too. If you recall from my earlier posts after chemotherapy for leukaemia you have to spend weeks on the ward until your immune system recovers. During that time he would grab his drip stand and encourage me to join him in doing laps of the ward.
I will always hold onto this strange image of this huge bloke with his red cap, and Sheffield United top on, flying pass the nurses' station before settling down for the afternoon war movie.
To say Andy was a big United, or Blades fan, was an understatement. He was always giving fans of the city's other football team, Sheffield Wednesday - or Wednesdayites- lots of grief. It was hilarious watching these fans, patients and staff, engaging in this good natured sparring.
You have to spend so many hours in that place so to be with someone who can generate that level of energy and laughter was incredibly helpful to me and everyone else involved there.
One of my favourite memories of Andy was his love of the football computer game Championship Manager. The general idea of this game is you take charge of a team and guide them to success and trophies - but Andy had other ideas.
I remember one day he had this huge smile beaming out from behind his laptop. I asked him what he was up to, assuming he had steered the Blades to Champions League glory. Far from it. He explained he had taken over Sheffield Wednesday and was revelling in getting them relegated and financially ruined. He'd do things like buy 11 left-backs for sums vastly in excess of their asking price. When players got upset at the situation he would just ignore them and carry on regardless.
Andy had a harder time in hospital than me. He had a number of very serious infections and had to be taken upstairs to the High Dependency Unit on a couple of occasions.
He has already featured in my blog (Christmas and getting ill) because he was so poorly over the festive period. It was awful seeing him so poorly on Christmas Eve and Christmas Day. When characters like that can hardly move or talk it's horrible to witness.
But he never let any of it get him down. He kept fighting all the time and that was inspirational to me. After a week he was back on his feet and mocking me for vomiting so loudly!
Our treatment seemed to be linked. We both had two cycles of chemotherapy at the same time, both of which failed. We then started our bone marrow transplants about a week apart. It never crossed my mind that he wouldn't get over the disease.
As you have probably gathered by now Andy didn't make it. On the same week I got my good news I learnt Andy had not been so fortunate. I think his leukaemia had been much more aggressive than mine and the transplant had been unsuccessful. To sum up how devastated I am, and everyone who knew him was, is too difficult to put into words.
Although this last story might make for uncomfortable reading I wanted to include it because I know it would have made Andy laugh. After the transplant we were in semi-regular text message contact. I knew towards the end he was very ill and you know from personal experience you don't want to be bothered with lots of phone calls or messages.
On the Saturday while I was still waiting for my results I got a text from Andy saying his transplant had failed and that he'd been given four months to live. Then just hours after receiving my news on Tuesday I got the following text from Andy's phone:
"As usual I will have the last word. I would like you to join me on Saturday at Grenoside Crematorium to celebrate my life, love Andy."
Because Andy was such a big character my assumption was he had organised a big event with friends and family before he finally died.
I thought this was incredible and turned up to the event really looking forward to seeing him - I had even brought a card addressed to Andy. Then the hearse turned up with a large coffin in the back. To say I was shocked was an understatement.
The message must have been sent out under instructions from Andy by one of his relatives.
Although this story sounds a bit embarrassing I know it would have made Andy laugh. I can almost hear him saying: "So you came to my funeral thinking I would still be alive? You bloody idiot!" - Or words to that effect.
I should add that his funeral service was packed with hundreds of well-wishers, some in Blades and Wednesday tops, and the first song was the Jam's Going Underground - what a legend!
Andy was a terrific human being and the world seems a bit worse off for losing a character as big as he undoubtedly was. Despite my good news his family were so kind to me at the funeral and wake that followed.
His death makes me appreciate just how lucky I have been and even more determined to make the most of whatever time I have left. Like anyone who had the fortune to meet Andy, I will never forget him.