Just when everything seemed to be falling into place I have had another kick in the teeth.
Yet again it's potentially very serious, possibly untreatable, but if it was anything less than that I am sure you would refuse to read on any further - and quite right too.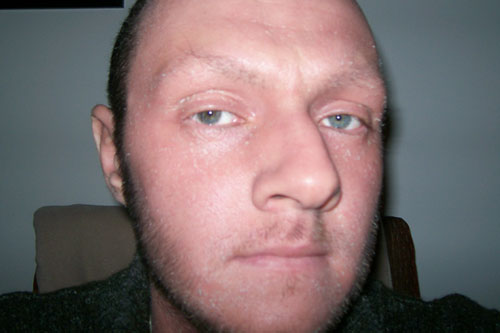 I have a suspected outbreak of chronic Graft versus Host Disease (cGvHD). As you can see from this picture it has attacked my skin leaving it flakier than a flapjack and as sore as salt and vinegar crisps on a mouth ulcer.
So sit back and let me tell you a tale of a red raw epidermis, high dose steroids and the undeniably homoerotic application of baby oil.

It all started about two weeks ago. I noticed my skin was not holding onto its moisture as it once did. To begin with it was nothing serious but, for the first time in my life, I found myself regularly applying moisturisers.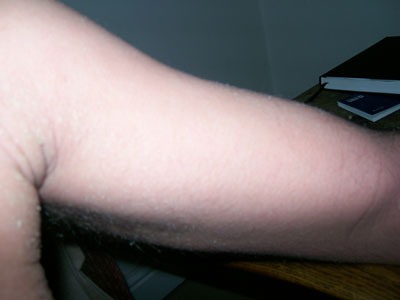 I still have bi-weekly check-ups at the hospital so I reported it to the doctor who has been looking after me.

He said to keep an eye on it but it was probably a side-effect from the Total Body Irradiation and would pass after a couple of months.

Clutching a big pot of E45 cream I returned home happy. Things then slowly began to deteriorate further.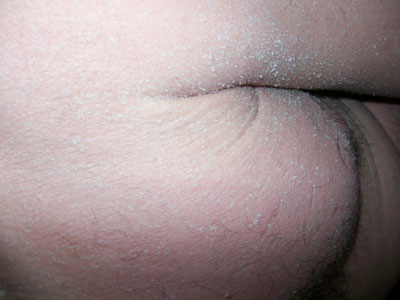 What I did find interesting is the incredible amount of advice so many people seem to be able to dispense in this subject area. I was told about lots of different products, some of which I'd never heard of, and was thoroughly briefed on how to "exfoliate" successfully.
Then the baby oil came into play!
It was the only substance that would stop my skin drying out immediately and although a little inhibited about applying the greasy lubricant all over my naked body, let me tell you, it soon became a not all together unpleasant experience.
Would I go as far to say it made me feel macho? Yes I would.
This was satisfactory for a couple of days but then the problem became really unmanageable. My skin was blossoming in shades of puce and its integrity was rapidly disintegrating. This meant some days my body was unable to regulate its temperature so even though my flat was roasting I felt unbelievably cold.

My eyes started to tighten making it very difficult to see out of until eventually all bits of my skin started to dry up.
Waking up in the mornings was unbearable. The backs of my legs and areas surrounding my shoulders were cracked and to move them was very painful. The only temporary relief I could get was to plunge into a bath filled with an emollient lotion. It was bliss.

Unfortunately, the effects of this bath would only last for about 15-minutes before the whole scaly process would begin in earnest once more.
I think the final straw came at the weekend when I asked Poppy (my girlfriend) to apply some oil to my back and around my shoulders.
Poppy speaks:


"I asked Adrian to lift his arms up so I could moisturise his sides. As he did so, the underside of his arm was stretched from its normal, creased position. Normally, one would expect the skin to stretch out in response to this movement. Adrian's did not. Several large, bleeding cracks appeared in his already sore skin. I'm still cringing."
The next day it was back into hospital and urgent treatment began.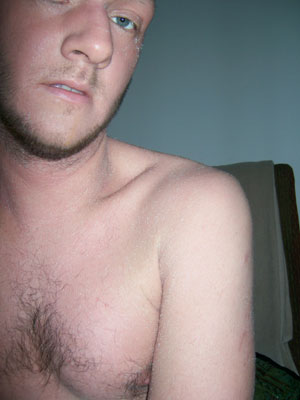 So what is Graft Versus Host Disease?
I think I mentioned it in an earlier post but it's probably important to re-cap here. The graft refers to the donor cells that have engrafted and replaced my old bone marrow. I am the host. Ever since the transplant I have been on immunosuppressant drugs to stop conflict developing between my new cells and my body.
Bone marrow produces white blood cells which help protect your body against anything that shouldn't be there i.e. anything that it recognises as being foreign. This includes any remaining leukaemic cells which have somehow managed to survive the massive doses of chemotherapy and radiation bombardment.
The key GvHD symptoms you are told to watch out for include:
Skin rash

Sickness

Diarrhoea
I developed a rash earlier on in my treatment which responded well to topical steroid creams. Because this happened before 100 days after the date of my transplant this is called acute GvHD.
Any flare-up after 100 days is referred to as being chronic. Because my skin was just drying up and getting redder alarm bells were not initially ringing in my head.
I was about a week away from coming off my immunosuppressants when this outbreak took place. Again dermatologists sliced out a small section of the skin on my arm to confirm whether it is indeed cGvHD and my doctors prescribed a very high dose of steroid tablets.
As my new immune system develops, and the drugs controlling this reaction are reduced, my white blood cells are starting to attack rapidly growing cells in my body. This means my skin is a bit of a target at the moment. But it's also dangerous because your new defences can start to attack your liver. Thankfully, tests show my liver is still functioning well at this stage.
My new treatment is two-fold.
1.Increase the dose of the regular immunosuppressant drugs.

2.The steroids come in and stop the new white blood cells, from my newly engrafted bone marrow, from working as 'well' as they are.
Thankfully I seem to be responding. The change in my skin, within 24 hours, has been incredible. No more problems have surfaced yet so I have to be optimistic that this situation can be contained. Some people are not so fortunate and the condition can run away from them becoming incurable.
I am grateful to have seen such a change in such a short space in time, but as you know I was so close to getting back to normal life - and work. I'm annoyed and frustrated that this latest problem will delay matters further.
Sometimes it seems like it's never going to end.