Despite my bone marrow being more dysfunctional than a group of ASBO kids who have recently guzzled ready meals aplenty, washed down with flagons of pop, I have to say I have a new found respect for this incredible tissue. Your marrow is responsible for producing the following cells of the blood:
â—? Red blood cells which carry oxygen around the body.
â—? Platelets which stop you from bleeding to death if cut.
â—? White blood cells which fight off bacterial infections.
In an adult, in order to sustain the necessary levels of blood cells, the marrow works at a phenomenal rate. It has to produce around 3 million red blood cells and 120,000 white blood cells - every second!
When this immaculate system is impaired serious problems occur.
Leukaemia is essentially a cancer of the blood. There are many different types and sub-groups of which Acute Myeloid Leukaemia (AML) is one. It's pretty serious but also the most common form of the disease in adults.
The majority of cells in the body are programmed to die at a certain point. In cancer this controlled cell death is overridden and the cells proliferate uncontrollably. And so it is with AML. At some point something went wrong in my marrow and cells began to divide without restraint.
In reality, the situation is much more complex but it was explained to me like this. Imagine the space inside a bone. If cells in the marrow are proliferating then this will affect the production of all the blood cells. In my case the cells were being 'squeezed out' of the marrow before they were ready. Effectively this meant they were useless.
I have included this very basic cartoon illustrating the maturation of the blood cells in the bone marrow. The rectangle gives an idea as to where the AML is occurring.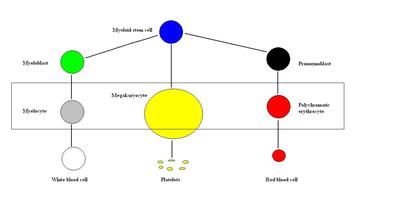 Regarding my symptoms, leukaemia explained why I was so pale because I had a lack of functioning red blood cells. This also meant I was exhausted as not enough oxygen was being carried around my body. In fact, my consultant said it was like walking around with three bags of blood missing.
It also explained why I was so susceptible to bacterial infections because my white blood cells were not protecting me as they should.
In one of my earlier blogs I described a deep pain in my right thigh that wasn't getting better. It has been suggested this could have been the cancerous cells increasing in number and pushing out onto the bone.
Inevitably the next question is what causes this cancer? The answer unfortunately is not clear. If you don't smoke, have not been exposed to benzene or were not in Hiroshima at the time of the bomb, then it's probably just bad luck. In the beginning it was something I would spend many hours thinking about.
Now I am resigned to the fact that we will never know what triggered it and in some ways I think this is easier to deal with. It means you can't look back at a particular time or situation with bitter regret.
The disease is indiscriminate affecting people of all ages and backgrounds. Around 110,000 people in the UK have a blood cancer and each year it will kill around 11,000.
People tend to think it's a disease that primarily affects children. This isn't the case. Approximately 500 are diagnosed in the UK each year, the bulk are older patients.
Treatment has improved massively since the 1960s and for AML patients between 75 and 80% will achieve remission after several cycles of chemotherapy. However, only around 35% of these patients will never be bothered by the disease again.
I believe the odds are much better for young children with the disease.