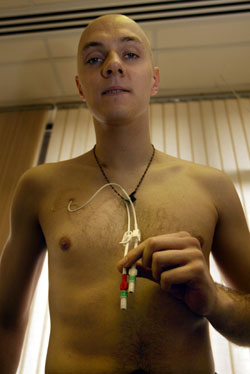 The first weapon in the fight against Acute Myeloid Leukaemia (AML) is chemotherapy. Patients are given a cocktail of chemicals that attack rapidly dividing cells.
But as well as killing off the cancerous cells it also affects other similar cells in the body - hence the undesirable side effects. Hair loss occurs because hair follicles are hit. Strong chemotherapy also wipes out cells that line the gut making it incredibly difficult to eat food and can cause severe diarrhoea. It also inadvertently affects the cells involved in reproduction.
One of the main advances in the treatment of leukaemia is the Hickman line which I am modelling here. It is inserted into a vein below the neck and the internal end sits just above the heart. The other end emerges with two little pipes and sits on the outside of your chest.

It's inserted under a local anaesthetic. I wouldn't say it's a particularly pleasant experience but it is totally painless. For the first couple of days it feels a little strange having these two tubes dangling in front of you but you quickly forget about it.
It's very useful because suddenly your daily blood test can be taken from the line, blood can be put in through it, as can antibiotics should you fall ill. Anything put into you goes directly to the heart and is distributed immediately throughout the blood system. The line, therefore, is also great for chemotherapy.
AML patients are normally given four or five cycles of chemotherapy. There are different combinations of the chemicals and the regimes can last between five and ten days.
Bags of the chemicals are placed on drip stands and then you are hooked up to it via your Hickman line. That's all it is. The bags I had lasted between half an hour and four hours.
To begin with I reacted very badly. I would be sick at regular intervals and, due to the fact I am quite loud when vomiting, my three friends in the room would cheer me on in support!



The second problem I experienced during the treatment was that it caused extreme fevers. Again, with spooky regularity, my temperature would begin to soar yet I would feel freezing on the inside. Imagine the coldest you have ever been and no matter how many layers of clothes you put on, or hats you wear, it would make no difference at all.
These phases lasted for around an hour and were horrible. I would be shivering uncontrollably then eventually my body would switch over and it felt like I was roasting. I would typically be sick in between the two stages and then rapidly have to rip off the many layers of clothes I had put on previously.
Interestingly, I learnt that good old, simple paracetamol, is fantastic at controlling these fevers.
As I progressed through my first lot of chemotherapy the nurses tinkered around with a combination of anti-sickness and anti-inflammatory drugs to combat these side-effects. By the last day they had finally cracked it and I felt much better.
The hope is that several different courses of chemotherapy will be enough to wipe out all the cancerous cells and achieve remission. If this isn't the case then a bone marrow transplant may be the only hope.
But just as the first load of chemotherapy was coming to an end I was to receive some more bad news.