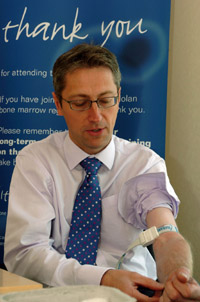 What would you say if I said stem cell donation differed little from giving blood?
You'd probably say something like, "Shut up Sudders, I'm tired of your online cancer whinging, and if I was a bone marrow donor someone would need to smash my spine."
I have a degree in Physiology, have spent five months in and out of a haematology ward, and I'm still staggered that I have only learnt what stem cell donation is really like.
There is a huge amount of confusion on the issue. I used to give blood but never thought about donating stem cells because I thought there was a slight risk of paralysis.
The reality is very different.
In the UK, around 70% of all transplants are carried out using stem cells found in the regular blood stream.
If you wanted to get on one of the donor registers all you have to do is ask about it next time you give blood. Alternatively, you could get in touch with the Anthony Nolan Trust.

Specialists can tell from your blood whether you are a potential tissue match for someone or not. Your details are then entered onto one of the databases.
If you were a match for someone who needed a transplant, and you still wanted to help, you would be given a number of injections of a naturally occurring hormone called Granulocyte Colony Stimulating Factor (G-CSF), four days prior to the donation.
This stimulates your bone marrow to increase blood cell production. For example, when you are ill, GCSF stimulates the marrow to make more white blood cells to fight off infection.
The injections are safe and the only side effect I experienced when I was given some on the ward was a slight ache in my bones.
A donor is then brought into hospital and hooked up to a machine called a cell separator. A needle is put in one arm and the blood goes into the machine. The stem cells are separated by centrifugation and flow into a bag. The other parts of the blood are then returned back to the donor through a different needle.
The whole process takes around four hours.
Current research shows that these types of stem cells are the best for curing leukaemia.
However, for some conditions such as aplastic anaemia, stem cells from the bone marrow are more desirable.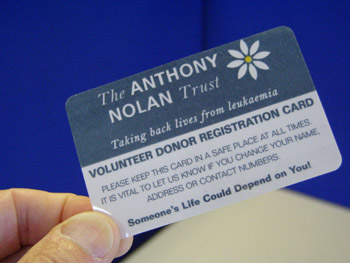 To get these cells a bone marrow harvest is performed. This can require a two-night stay in hospital.
When I have a bone marrow sample I have to lie on my side in the foetal position. I am given a local anaesthetic and a needle is inserted into the bony bits at the back of my pelvis.
A donor is given a general anaesthetic and the same procedure is carried out but at multiple sites. There is no bone-breaking or spine jeopardising - that is not to say it wouldn't be a bit sore in the morning!
None of these procedures are anything to be taken lightly and do represent a big commitment. All I ask is that readers have a look at the relevant websites and consider it next time they give blood.
I've been lucky - but many patients are still unable to find donors. Please visit the links below to find out more